5-star QB Caleb Williams announces his commitment to the Oklahoma Sooners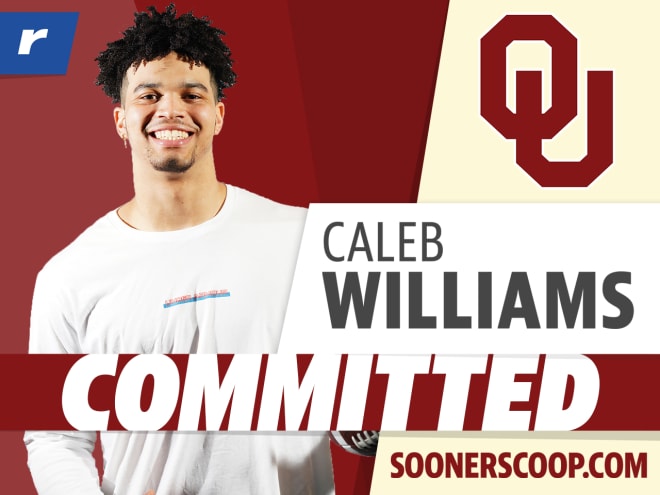 IN HIS OWN WORDS...
"It was the connection with coach Riley," Williams said. "He kind of ended it all. He was kind of a finishing touch to me committing in there. I think it was really our connection. When I went there and we were in the war room, the offensive meeting room for like two hours and it didn't even feel like two hours.
"It was awesome (when I told him on FaceTime today)," he said. "Coach Riley was happy I finally finally popped and told him that I was committing to OU.
"I hope I contributed (to these other commitments) a lot and I hope that Oklahoma can can pick it up so the fans and everybody can be happy," said Williams. "They've been waiting on me and a bunch of other commits. I hope that it starts picking up now and hopefully have a pretty good class.
"I've been working on Jalil Farooq, Tristian Leigh, Emeka (Egbuka)," he said. "Also, Kendal Daniels and a few defensive guys. Those are probably the main guys right now."
WHAT IS OKLAHOMA GETTING:
Williams has all the attributes coaches are looking for right now in quarterback prospects. He is mobile with a throw-first mentality and makes good decisions with the ball. Williams has arm strength to spare but can dial it back to deliver the ball with touch. Throwing timing routes and quickly delivering the ball from the pocket are two of his strengths and he does a good job of throwing his receivers open. Williams recruiting and bonding with the current and future Sooner wide receivers will only shorten his learning curve when it comes to picking up the playbook.
WHAT IT MEANS FOR THE SOONERS:
Oklahoma's quarterback recruiting is arguably the national standard right now. Lincoln Riley's proven to be a quarterback whisperer and clearly has his pick of the top quarterback prospects. Williams is a perfect fit for what Oklahoma likes to do on offense and he's not afraid of competing with the other quarterbacks already in Norman. This commitment could lead to a cascade of other commitments for the Sooners too.