2016s No. 1 kicker announces Friday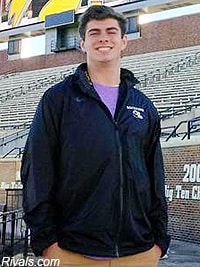 Rockford, Mich., kicker
Quinn Nordin
has solidified his decision plans, and the three-star prospect will announce his commitment on Friday, July 10.
"The last couple weeks I have been thinking hard, talking with my family, praying to God and talking with coaches about it," Nordin said. "This is a big decision that is going to be with me for the rest of my life.
"I am looking at great schools academically and on the football field as well. Wherever I go, it is going to be a great school and I'm looking forward to having a great senior year and moving on to the next chapter in my life."
Of that final four, Penn State was the first to offer. The Nittany Lions gave Nordin his third offer overall and he has a strong connection to their coaching staff and program.
"Coach (James) Franklin is an awesome guy. He is a great recruiter and a better man," Nordin said. "Coach (Charles) Huff has been recruiting me since day one. He got his eyes on me early. Penn State is a beautiful school, right in the mountains."
The last visit to Arizona State for Nordin took place for a game during the 2014 season, but his visit to Tempe last fall continues to resonate and he has a strong connection with their staff.
"The school is beautiful, absolutely gorgeous," Nordin said. "Coach (Shawn) Slocum there is by far one of my favorite coaches throughout this process. I am absolutely blessed to be able to know him and talk to him. He's a good guy and he has that pro (experience), which is absolutely of interest."
Nordin also visited Georgia for a game last fall, and he most recently returned to Athens for an unofficial visit in mid-June.
"Georgia is unlike any other school," Nordin said. "The fans, the people, the coaching staff is unreal. It is a great atmosphere that I would love to play in."
Among all his finalists, though, Nordin has visited Michigan the most. He most recently participated in a kicking camp there last month, booting a 51-yarder to win the competition and he has been communicating with the Wolverine's staff frequently.
"It's Coach Harbaugh - how much more do you have to say?" Nordin said. "The recruiting class he is bringing and the big, ol guys he is bringing in up front - the have some big-time offensive linemen and for me that is pretty appealing knowing I'm going to have those big hosses blocking for me."
The 6-foot-2, 200-pound Nordin has the ability to handle any or all of the kicking duties in college, and his finalists all have different plans for him.
"At Georgia it is going to be four years to kick field goals and kickoffs, then possibly fight for the punting job as a freshman," Nordin said. "At Arizona State I would punt and do kickoffs as a freshman, then do field goals as a sophomore. At Michigan, as of now, I would be doing field goals, kickoffs and punt as a freshman. Then, at Penn State, I would be doing kickoffs and field goals."
Nordin will be announcing his commitment at 10:30 am ET on Friday at Rockford's Ted Carlson Memorial Stadium.