Young father committed life to raising son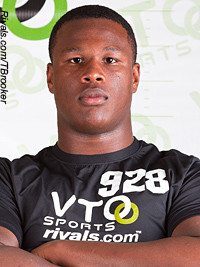 CHARLOTTE, N.C. - Dierrias and D.J. Humphries often are mistaken for brothers. They don't look far apart in age, they're similar in height, build and mannerisms.
"Nobody," D.J. said, "ever believes that he's my dad."
Dierrias Humphries not only looks young. He is young.
Dierrias (also known as D.J. Sr.) became a father at 15 and, at 32, has a son who is a senior in high school. Not a typical senior, either.
D.J. Humphries
is a 6-foot-5, 265-pound offensive tackle who is ranked as the third-best high school prospect in the 2012 class.
"Sometimes we sit and laugh about it," said the younger Humphries, a five-star out of Mallard Creek High who recently committed to
Florida
.
Not that long ago, though, parenthood was no laughing matter to Dierrias. After one semester of high school - on Dec. 28, 1993 - he became a father when his girlfriend, Keisha Means, then 16, gave birth to D.J.
"I was shocked by it," Dierrias Humphries said.
Not only did Humphries become a dad at 15, but his mother, Teresa Rogers, became a grandmother at 30.
"We were lower-middle class," Dierrias said. "I was raised by my mom. She was a single parent. She was young when she had me. It was kind of the same deal. I grew up in the house with one brother and one sister. I was the oldest. She was working one job and going to school. She was a registered nurse."
Despite the difficulties that would go with becoming teenage parents, Dierrias and Keisha never considered other alternatives such as adoption. While going to school and participating in sports, Dierrias Humphries also worked part-time jobs. His friends had active social lives; he did not.
"It makes you grow up faster," he said. "I didn't hang out too much. I just mostly hung out at home with him. It was difficult but everyone pitched in. D.J. pretty much lived with both families - with me and my mom and his mom and her mom. To me, education and everything else became more important. Everyone wanted to make sure I went on, got an education and became successful."
For Dierrias, there were plenty of colleges from which to choose by the time he was finishing high school. At South Carolina's Union High, he was a 6-foot-5 standout in football and basketball.
"I was all-state in both and player of the year in the conference in both," Dierrias said. "Football-wise, I was a Division-I recruit. Basketball-wise, I was more lower D-I to D-II."
Eschewing offers from football programs in the Atlantic Coast Conference, he opted to play basketball at Presbyterian, which offered something the bigger schools couldn't.
"It was only about 30 minutes from home," Dierrias said. "It worked out best for me being close. I could always get home quickly if I needed to. I didn't really miss out on much because I was so close to home."
During his final year at Presbyterian, Dierrias gave football a try. According to the Union (S.C.) Daily Times, he averaged 8.6 receptions and 121.6 yards per game, and set a program single-season records for receptions (95) and receiving yards (1,340), and scored 14 touchdowns. In one outing, Humphries recorded 275 yards against West Georgia. All of this was good enough for him to sign a free agent contract with the Baltimore Ravens.
"I made it right to the end of training camp," he said. "Once I got released I never got another shot. I bounced around the arena leagues for a while. In 2006, I gave up football."
Fortunately for Dierrias, while at Presbyterian he had been serious about academics. As it turned out, the two-sport star also was a bit of a nerd on the side.
"I was a triple major," said Dierrias, who graduated from college in 2002. "Math, physics and computer science."
Today, Humphries lives in Charlotte with D.J., wife Aledra and D.J.'s sisters, Dionna (11), Ava (5) and Ashten (1). He works from home as a database architect (another interesting tidbit that surprises many people, he said). Working from home allows him to closely monitor D.J. , whose mother still resides in South Carolina.
"It was bad on the front end, but on the back end, it's the best thing ever," the elder Humphries said of parenthood. "We kind of grew up together and have interests in a lot of the same things. We can really communicate and our relationship is better than if I was a lot older."
That said, both insist Dierrias does not cut his son, the country's No. 3-rated football prospect, any slack.
"I pushed out all C's my freshman year," D.J. said. "Oh man, he snapped on me. You don't understand; you can't get anything past him."
For Dierrias, part of being a parent is making sure his son doesn't find himself in a difficult situation such as his own. Although he sometimes wonders how his athletic career would have turned out had he chosen to play Division I football, he said he doesn't spend time lamenting about what might have been had he not entered fatherhood so young in life.
"No regrets at all," Dierrias said. "It's life. You take life how it comes to you and you make the best. "
The sacrifices made by his father, whom he considers a role model, are not lost on D.J. Humphries. Someday down the road, he hopes to repay him.
"I'm sure it was tough for him," D.J. said. "I'm not sure how he got through it. He's a strong-minded guy, I know that. He's always told me, 'If you ever go to the NFL, just get me a house with no neighbors on a big piece of land and you can leave me alone after that.' Hopefully if I can get there, once that contract is signed, he'll get it wherever he wants it. I would never tell him this, but he's pretty cool."
[rl]