WR Baldwin is healthy, ready to prove himself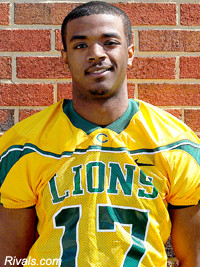 Colleges are certainly intrigued by Washington (D.C.) Archbishop Carroll wide receiver
Lamont Baldwin
. It's not surprising considering the wideout's size, 6-foot-4, 205-pounds. However, injuries have sidetracked his recruitment a bit.
"I didn't play last year as a junior because I fractured my skull," he said. "I reclassified because of that since I would have been a senior. I'm better now and my first camp back is the VTO on April 7th in Richmond. I'm doing pretty well."
On the recruiting front, most colleges are taking a wait and see approach.
"Most of the schools haven't seen me since the injury," he said. "They see me physically and I'm actually bigger than I was. My feet are great too, but all the schools want to see me in one-on-ones. They just want to see something, workouts or VTO to see how I perform."
Schools are interested in Baldwin though.
"I'm going to Maryland for their spring game in April," he said. "I know for sure I'll be at Delaware on April 14th too. I think after the VTO I'm visiting NC State for a visit since they are interested in me a lot.
"I plan to do camps at Temple for sure, Cincinnati, Maryland, North Carolina and maybe West Virginia."
Baldwin is told he has a verbal offer from Delaware, although they are still reviewing his film.
Does he like any schools?
"Right now I like the schools I'm going to camp to, those are the schools I want to go to," he stated. "They throw the ball the most and I like the location. I'd prefer to be closer to home."
Baldwin wants a few things in his future program.
"I'm looking to see if I'll actually like it, and how I will adapt to it," he said. "I'm also looking at the work, how they'll help me with my grades and how credible is the school. The main thing though is how I get along with my position coach."
No matter where Baldwin ends up, he confirmed he plans to enroll early in January 2013 upon graduating on January 5th.