Wozniak focused on two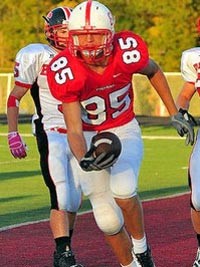 Big 6-foot-9, 255-pound Greenwood (Ind.) Center Grove tight end
Nate Wozniak
has collected seven BCS scholarships thus far in his recruitment, but this week the three-star prospect said two schools stand out more than the others.
"It's sort of down to Purdue and Miami," Wozniak said. "There may be room for some more.
"I am trying to make an official visit to Miami and maybe an official visit to Purdue. I have had a lot of unofficial visits to Purdue."
Wozniak has not set dates for official visits to either Miami or Purdue and is checking his schedule to see whether he will have time this fall to complete those, or if he will have to wait until after his season is concluded.
With offers from the likes of Cincinnati, Indiana, Iowa State, Maryland and Minnesota, Wozniak identified several factors about Miami and Purdue that has those two teams out front.
"Miami, I like the status of their program and I like how they have made a name for themselves," Wozniak said. "When people say Miami, they automatically know the five national championships. I also like how the coaches are really into me and would like me to come down for another visit.
"I like how close Purdue is a little bit. I'm not saying distance really matters to me, but Purdue could be that school that is close enough where I could go there for school and come back on breaks. Academics at Purdue is a thing that really pops out at me. I have some uncles that went to Purdue and they are all doing pretty good there now with that degree."
Wozniak is a unique prospect because of his size. He could project to the offensive line in college, but tight end is where he will play exclusively as a senior and the position he has discussed most with his top schools.
"I'm pretty sure they are looking at me for tight end," Wozniak said. "Most of them say they really enjoy watching my blocking ability and my ability to reach over a lot of people in the receiving game as well."