Woody's Weekly Things: Five weird things from Week 2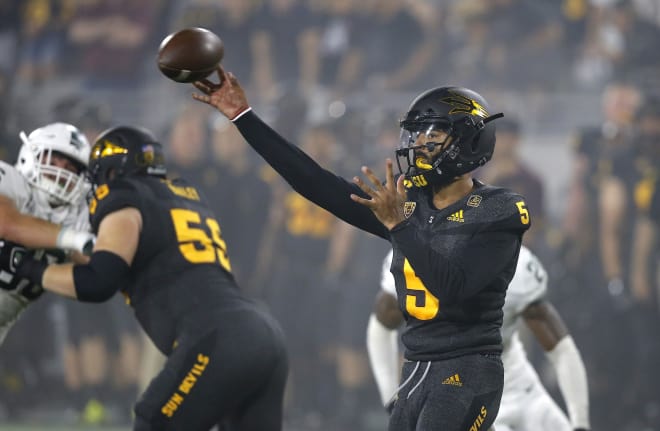 MORE: How many five-stars are on AP Top 25 rosters?
Even before I started working at Rivals.com, I would spend my Saturdays watching as many college football games as possible. Now that I have interacted with most current college football players, it gives Saturday's a different perspective. Each week, I will watch as many games as possible and share my thoughts in this space, examining weird moments and sharing some throwback recruiting stories as well. This week I was on the road for high school games, so it made it harder to keep up, but here's what I've got.
FIVE WEIRD THINGS FROM WEEK 2
Florida State's turnover backpack
The Willie Taggart era continues to sputter out of the gates as it took a come-from-behind effort for Florida State to beat FCS program Samford on Saturday night. Yes Samford, not Stanford. And while 'Noles fans have plenty of gripes with the new coaching staff after two weeks, the biggest might be with the new "turnover backpack" that the team debuting during Saturday's game. While Miami debuted a new, even more fire emoji version of the original turnover chain on Saturday, the Hurricanes' rival rolled out a backpack for players to wear on the sideline. FSU people will tell you it's all about "securing the bag" a term used by youths of America that means "to describe the act of taking/obtaining advantage of the situation and keep something of value" the college football world has already decided it's turnover backpack and that's what it will be called henceforth. Personally, I think it should go the way of the Butch Jones Tennessee trash can and disappear.
What's the deal with Khalil?
After spending the back half of the 2017 wondering if Khalil Tate could win the Hesiman, we are now wondering if he should be benched? That's how crazy the year has started for Arizona and new coach Kevin Sumlin. Tate looks nothing like the player who burst onto the scene last fall and through two games he's managed just 22 yards rushing, after averaging nearly 150 per game last year. Sumlin said before the game that he was going to "unleash" Tate but clearly things aren't going as planned so far in Tucson.
Nebraska's quarterback situation
Now I'm not here to be a "get off my lawn, players shouldn't transfer" guy, but after losing the job to Adrian Martinez coming out of camp, Nebraska quarterback Tristan Gebbia abruptly made the decision to transfer to Oregon State. Obviously, he felt like Martinez would be the guy going forward and he wanted to be a starter, so he left. But a longer look at the factors in play might have be the wiser move. Scott Frost's offense opens the quarterback up to taking hits in the running game, and Martinez has a history of injuries, including missing his senior season of high school. Sure enough, in the fourth quarter when Martinez went out with an injury, it was walk-on Andrew Bunch left to try to lead the team to victory. I'm all for players trying to find the best opportunity, but sometimes the grass isn't always greener on the other side.
Herm Edwards, Pac-12 savior
The Pac-12 has taken its share of lumps over the past 12 months, with the school's 1-8 bowl record last season being the low water mark of the period. But the Pac-12's hero has arrived, and it's not Chip Kelly or the aforementioned Sumlin, it's Arizona State's Herm Edwards. When he was hired in the offseason, he was the turnover backpack of hires. Widely mocked by the Ed Oliver-loving national media and the Twitter establishment, Edwards was expected to fall flat on his face. Well, two games into the season, he looks like one of the nation's best hires. The Sun Devils are 2-0 and their upset of Michigan State on Saturday night (or Sunday morning on the East Coast), is one of the conference's best out of conference wins over the past few seasons. With Arizona struggling and USC going through growing pains, it wouldn't be that crazy to see the Sun Devils in the Pac-12 Championship Game. Even if I immediately regret writing that sentence.
More punting issues
For the second straight week, our weird play is a punt block. Miami freshman Nesta Silvera is a bad man. Don't mess with him.
MADE ME LOOK SMART THIS WEEK - Anthony 'Pooka' Williams
How can you not like a guy named Pooka? The Lousiana native and true freshman was unleased by last week's "Hottest Seat of the Week" winner, Kansas coach David Beaty, and the results were magnificent. The electric running back, who has been compared to former Heisman runner up LaMichael James by yours truly, carried the Jayhawks to a 31-7 victory over Central Michigan on Saturday. Williams carried 14 times for 125 yards and two touchdowns, turning in quite the debut. Williams was a Rivals250 prospect who made a big leap in the rankings after I had the chance to watch him play in the 2017 Louisiana State Championship Game and by the time his career is over he might end up in the category below if he keeps putting up big numbers.
MADE ME LOOK STUPID THIS WEEK - Emanuel Hall
Emanuel Hall was ranked as a low three-star out of the state of Tennessee and has more than outplayed that ranking in during his time with Missouri. On Saturday, he had another huge game, catching 10 passes for 171 yards and a touchdown. Hall already has 342 yards and three touchdowns on the season, and appears poised for a 1,000-plus yard season. Hall's evaluation in high school was doomed by bad timing, as a few injuries forced him to miss the offseason circuit. Nevertheless, Mizzou made a great evaluation and he continues to make teams pay for passing on him.
HOT SEAT OF THE WEEK - Kevin Sumlin
He won't really get fired after one season, right? No way. But maybe …
GAME OF THE WEEK THAT YOU DIDN'T SEE - COLORADO STATE VS. ARKANSAS
The Rams-Razorbacks game was banished deep into the quadruple digits on the channel guide, but presented plenty of entertainment nonetheless. The SEC West program traveled to Fort Collins to play the Rams at altitude and lost 34-27 thanks to a 17-0 fourth quarter rally from Colorado State and capped off by the game-winning score with :08 on the clock. An 0-2 Mountain West team beating an SEC West team is notable, even if it's rebuilding Arkansas. The Rams attack was led by a pair of former elite recruits, Rivals250 quarterback and Washington signee K.J. Carta-Samuels threw for 389 yards and two scores and former four-star Tennessee wide receiver Preston Williams hauled in 12 passes for 154 yards and two touchdowns.
DID THAT DUDE JUST DO THAT?
Former Rivals100 defensive back Chauncey Gardner guaranteed a Florida victory over Kentucky on Saturday night. Unfortunately for him, the Gators saw their 31-game winning streak over the Wildcats snapped and he left the game with an injury. Gardner is a man who loves to speak his mind, so hopefully he's allowed to continue making guarantees, even if they don't all work out.