Wommack's Takeaways: Kentucky talent, QBs impress in Nashville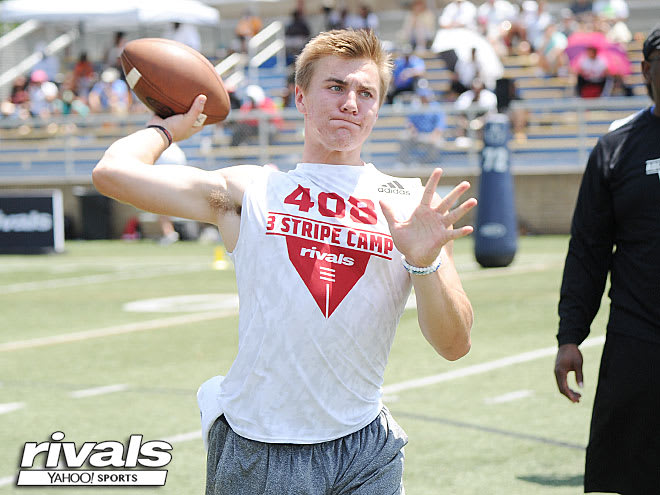 NASHVILLE, Tenn. – The Rivals 3 Stripe Camp Series presented by adidas rolled into the Nashville area on Saturday, with prospects from 10 different states converging at Pope John Paul II High School to compete in the event. With so much talent on hand of course there were plenty of noteworthy performances on the field as well as plenty newsworthy items to come out of media availability. Here are the five of the day's biggest takeaways.
RELATED: Updates from RCS Nashville | Full Rivals Camps Series schedule
QB TALENT IS DEEP
Anytime you have the nation's No. 1 quarterback on hand it's going to be a good day at the position but the overall depth was pretty impressive. The group had its share of headliners, led by Auburn commit Bo Nix, as well as three-star prospects Zach Calzada and Louisville commit Jaden Johnson. But the depth of talent we way beyond that, evidenced by MVP winner Justin Fomby. Several younger prospects impressed, including 2022 quarterbacks Tevin Carter and Ty Simpson. Obviously the state of Tennessee had some help with some quality out of state players joining the mix but it's clear that a state not traditionally known for talent at the position has a nice crop of young players to watch going forward.
ARKANSAS IS A SERIOUS THREAT IN TENNESSEE
Since Chad Morris took over at Arkansas and brought in former longtime Tennessee defensive coordinator John Chavis to do the same job in Fayetteville, the school has made it clear that it intends to reach into Tennessee to help rebuild the program. And after a strong push for some of the state's top players, it's clear the Razorbacks message is resonating with recruits. Four-star prospects Trey Knox, Lance Wilhoite, Adonis Otey and Woodi Washington all spoke highly of the Hawgs and it looks as if their efforts in the state are starting to produce results. It will be tough to land all four elite recruits but the more the school is mentioned and more importantly appearing in the state the easier it will be land prospects in this class and beyond.

KENTUCKY TALENT CONTINUES TO SHINE
The state of Kentucky isn't known to produce more than 10 Power Five prospects on a yearly basis but after back-to-back weeks of Kentucky products winning MVPs at Rivals Camp Series events, it's clear the state is having a moment when it comes to talent. After Wandale Robinson captured MVP honors last week in Columbus, it was Rivals100 defensive lineman Stephen Herron and unranked 2019 linebacker Jared Casey walking away with MVPs on Sunday. The fact that the state already has players committed to Michigan, Virginia Tech, Notre Dame and Alabama is impressive enough but the state continues to show it's got a deeper pool of talent in 2019 and beyond.
TWO-TIMERS COME IN CONFIDENT
It's rare for prospects to earn back-to-back trips to the Five-Star Challenge, mainly because of the limited number of underclassmen invited to the event on a yearly basis. But on Sunday three players – Trey Knox, Adonis Otey and Stephen Herron – earned invites for the second consecutive year. All three players came into the event with a target on their back because of their well-known status and all three rose to the occasion, with Otey and Knox in the mix for the MVP awards at their positions and Herron walking away with the hardware at his position. After feeling their way out last year, all three will look to cement themselves as some of the best overall players in this class at this year's event.
PLENTY OF SLEEPERS STILL TO BE FOUND
With just seven months until the first signing period, several schools already have a good idea on how their recruiting boards are shaking out. But after several players without Power Five offers – or some without offers at all – it's clear there is plenty of talent still to be found. Casey was by far the surprise of the camp, looking like a future SEC linebacker while dominating every step of the way. He lists just two offers, via Cincinnati and Purdue, but it's clear he will have more options going forward. The same can be said for three-star defensive lineman Elijah Simmons, who was within shouting distance of the MVP award at his position and boasts just one offer from Memphis to date. Several other players fit the bill as well and it's clear that if they can camp at schools this summer the way they did on Sunday there will be more offers to come.