Wisconsin the fit for Grady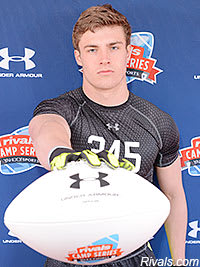 Dublin (Ohio) Coffman linebacker
Griffin Grady
announced his commitment to
Wisconsin
on Wednesday, but it was a decision he has known for some time.
"I have been thinking about it for awhile," Grady said. "I visited back in April for the first time up to Madison and I loved it. It felt like a great fit at the time, but I didn't know if it was in-the-moment excitement, so I let it sit for awhile.
"My excitement never really faded on Wisconsin, so I called Coach (Joe) Rudolph and Coach (Paul) Chryst about a week ago and told them I want to be a Badger. I wanted to make it public once I got up to Madison for a second time and do it the right way, shake Coach Chryst's hand and make it real."
That second visit took place on Wednesday, and reaffirmed to Grady that he had made the right choice.
"I was there on an unofficial visit and saw all of campus again," Grady said. "Of course the coaching staff is outstanding. Coach Chryst is laid back, but he is going to push you to get the best out of you on the football field, as a man and as a student. I felt that today more than ever, and that reassured me that's who I want to go out there every Saturday and play for.
"I spent a little time with some guys who just got there in the year ahead of me. The guys there are great, they are fun to be around and I feel I could mesh with them real fast. It was all just reassuring."
The 6-foot-3, 206-pound Grady is ranked as the No. 31 outside linebacker prospect in the 2016 class, and that is where Wisconsin plans to play him.
"They see me playing the outside field linebacker in their 3-4 scheme," Grady said. "I would be on the outside, setting the edge. Coach (Dave) Aranda runs such a complex, great defense that there is a bunch of different responsibilities for that linebacker."
Grady held a double digit offer list prior to his decision and said several teams, particularly
Northwestern
, made it a difficult choice, but is 100 percent with his decision to be a Badger.
"I'm confident in my decision and know it's a great one," Grady said. "Wisconsin, I just felt, is the perfect fit for me - campus, football and academic-wise."
Grady is the fourth Wisconsin commit this week and the third linebacker to pledge to the Badgers in the last four days.