Wisconsin commit Travian Blaylock not interested in visiting elsewhere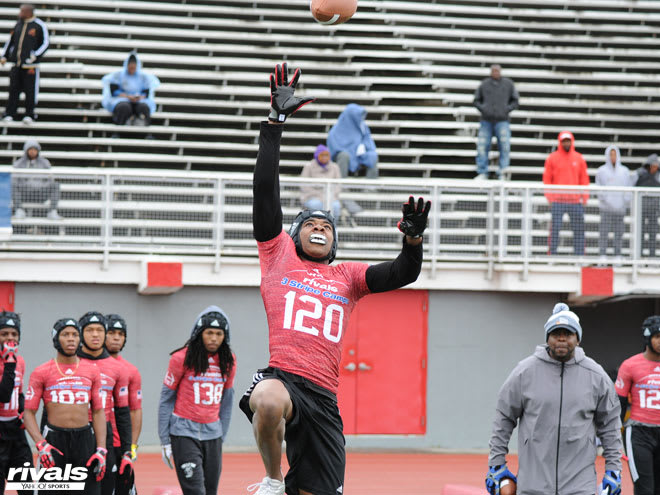 HUMBLE, Tex. -- Travian Blaylock can see some similarities between playing for Atascocita this season and Wisconsin next year.
The three-star cornerback committed to the Badgers in July, and has loved what he's seen from his future team this season. Meanwhile at home, his Eagles team has shrugged off an early-season loss to allow a touchdown or less in four of its next five games.
"Defense has come together, making some plays," he said. "We're holding it down on the DB side, we've been good this year. D-Line is great, linebackers are great, the team defense has been really good right now. Defense wins championships, so we're going to see."
Perhaps the Badgers haven't seen quite as much national attention this season as some other programs despite their 8-0 record, but the defense has been holding opposing offenses to under 270 yards of offense per game. Blaylock has loved what he's seen and thinks that now Wisconsin should start getting some serious College Football Playoff consideration.
"That defense is a beast," he said. "At some points they look a little like a bend-but-don't-break sort of team, but they've really dominated. I've watched every game this season to see what the defense is like. When you have Chris Orr - I just got to meet him on an unofficial visit - he's a great player on the field. D'Cota (Dixon) has been locking stuff down.
"They're undefeated right now - we'll see what happens, but I think Wisconsin has a shot to go to the playoffs this year. A really good shot."
In preparation for his college career, Blaylock has been working hard to polish up his coverage skills. As a thicker corner, physicality has been one of his calling cards, but his father - and former NFL running back Derrick Blaylock - has been working with him to tune up the parts of his game that require greater speed and agility.
"This offseason I worked a lot with my dad on just coverage skills in general," he said. "I have been doing a lot of one-on-one work against receivers, flipping hips, getting in-and-out of breaks. I'm able to see things faster, get out of my breaks and get on it quicker. That shows if you go back and look at the film from this season."
RIVALS REACTION
Blaylock is a really strong athlete that should flourish in Wisconsin's defense. He said that some schools have continued checking on him - most notably Notre Dame - but that he's not even considering taking an official visit anywhere but Madison. Blaylock said that the most likely time to take that visit won't be until after the season, but it seems there essentially is nothing to worry about in terms of him keeping his commitment.