Winds of change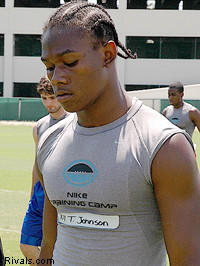 The winds of change are always blowing.
For most of the country it's the wind ushering in Mother Nature's warning that fall is rapidly approaching. But for college football fans, the winds of change have swept in Rivals.com updated recruiting rankings for the month of October.
The Rivals100 are the nation's top 100 players regardless of position, and it will be followed by the release of the Rivals250 on Wednesday and then the updated position rankings and star rankings will be released on Thursday. On Tuesday, October 11, the first Rivals.com team rankings for the class of 2006 will also be revealed.
The Rivals.com player rankings are compiled after countless hours of film evaluation, personal observations and input from professional, college and high school coaches. Our team of recruiting analysts and Rivals.com publishers submitted their opinions on the top players in their area – helping develop the finished product.
Harvin has done nothing to disappoint this season – proving he clearly belongs at the No. 1 spot. Through four games, Harvin had 19 catches for 388 yards and six touchdowns. He also had 11 rushes for 175 yards and six more scores. On defense, Harvin had two interception returns for touchdowns, and he's also brought back a punt and two kickoffs back for scores.
"He's unbelievable," Landstown coach Chris Beatty said. "It's hard to say anything about him that hasn't already been said."
Kindle has already racked up 869 yards rushing and 20 touchdowns, helping his team to a 5-0 record. On defense, he's yet to record a game without registering double-digit tackles and opponents are only averaging seven points against Wilson.
For the season, Stafford is 38 of 64 for 793 yards and 10 touchdown pass. While completing 59 percent of his passes are impressive, what's even more amazing is that he's yet to throw an interception.
There are two new members to the five-star club.
"He's the complete package," Merrillville coach Jeff Yelton said. "He has the extra gear and you can see a lot of times a guy might have an angle on him, and James can kick it into another gear and out-run him."
With the promotion of Aldridge and the recent commitment of cornerback Darrin Walls, the Irish now have two five-star prospects.
With any national list there are kids that move on and off the top 100 and this month's update is no exception.
All of the players that were moved out of the top 100 will remain members of the Rivals250 and at the high four-star level.