Wilson commits to UCLA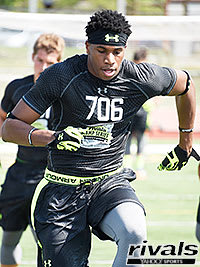 The 6-foot-5, 220-pound Wilson will play tight end for the Bruins, his natural position. He was also being recruited by several schools to play defensive end/outside linebacker, but said his recent visit to UCLA assured him offense was the way to go.
"I visited there on Friday and met with my position coach and he was a very down-to-Earth guy and I feel like I'll excel playing for him," Wilson said. "We talked for hours when I was there. He was just explaining how I could excel in their offense and really make it go because the tight end is featured in so many different ways. He said if I want to be there he really wanted me there and he thought I would be a good fit."
"I haven't met Josh, but I remember watching him when he was going through the recruiting process," Wilson said. "I know he's a great quarterback and he can get the ball where it needs to be and they told me I'll be flexed out wide a lot, so hopefully we can have a good connection."
Wilson visited Westwood last weekend with his family and said once he stepped on campus, he knew it was the right fit.
"What made UCLA's campus special is that it wasn't too big or it wasn't too small," he said. "The weather out there is amazing and just the all-around feel. They take football seriously, but they also take academics seriously, so I love that. The campus itself is in the middle of everything in L.A., so networking with people will be easy and that's a big plus, too."
Wilson's commitment caps a whirlwind five months that saw him add offers from schools in all five major college football conferences. With the journey essentially coming to an end, Wilson was feeling reflective about all the hard work that went into his decision.
"It's been a wild ride," Wilson said. "I never really pictured this before and it's just been a blessing to go through this journey that I've gone through. Meeting a lot of different coaches and players, seeing different campuses, it allowed my mind to explore and look for what I really wanted in a college and now I realize that UCLA is the best fit for me."
"I'm pretty locked in," Wilson said. "The only official visit I'll be taking is my official to UCLA."