Who's next to commit in Georgia?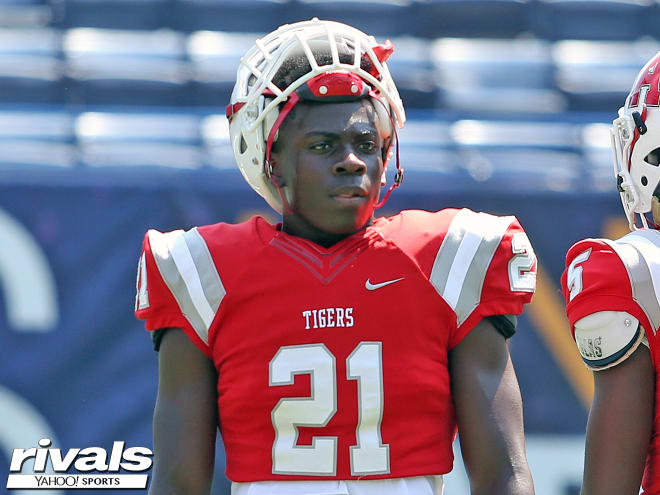 Andrew Booth goes about his business very quietly. He is not one who puts out information on each visit. Sometimes he likes to take his visits without many knowing where he is and he could literally commit at any time. Clemson is viewed as the favorite by many, although Booth will not confirm that is the case.

We know he is very comfortable with that staff, but do not sleep on the other Tigers. Auburn has some real momentum right now after picking up three commitments (all from Georgia) over the past week and Booth is giving those Tigers a strong look too. The in-state Georgia Bulldogs have remained in contention as has South Carolina, Tennessee and maybe a few others. Booth is one who could commit in the blink of an eye, so he's one to watch closely.
Keiondre Jones is planning to commit before his senior season, but how early will he make that decision? It is not likely to happen in May, but June is a possibility. He may or may not set a date to announce his decision, but when he does commit, it is likely to be to Auburn, Florida, Mississippi State or South Carolina.

Auburn is closest to home, but he has family (Emory Jones) now at Florida, so could it come down to those two? He has taken an official visit to Mississippi State already and the Gamecocks have been in this race from the beginning. Clemson is a school Jones still lists as well.
Could Ramel Keyton be next? The talented wide receiver out of Marietta is the only one on this list that has a date set. Keyton will announce his decision at 2:45pm ET on May 16, the day before the spring game at Marietta. Keyton recently told Rivals that Florida and Penn State have picked it up, but the main three schools involved here are Auburn, Ole Miss and Tennessee. So, look for Keyton to commit to an SEC school in a couple of weeks. The Tigers, Rebels and Vols love to recruit the Peach State and Keyton will be a big pick-up for the school he chooses.
Florida State, South Carolina and Tennessee are fighting to stay in this race, but Auburn is viewed as the frontrunner for Jashawn Sheffield. He saw close friend Owen Pappoe announce for the Tigers Tuesday night and on Monday, his best friend Jaylin Simpson committed to Gus Malzahn.

Is this more about when than if Sheffield committing to Auburn? There is no set date and he has talked about visiting a couple of schools before he commits, but this is one to keep a very close eye on — maybe daily.
When will Travon Walker pop? People have been asking that question for months. Some thought it would happen late in 2017. Many felt he would be committed by now. But, he is still on the open market.

Alabama, Clemson, Georgia, South Carolina and Tennessee are viewed as the main five for this athletic defensive lineman, so when will he actually commit? He has said "soon" many times, so stay tuned. Walker wants to go into his senior year committed, so it is coming.