Who earned their stripes at the Rivals 3 Stripe Camp in Charlotte?
FORT MILL, S.C. - The 2018 Rivals 3 Stripe Camp Series presented by adidas rolled into the Charlotte area on Sunday, with nearly 200 of the best college football prospects in the Carolinas and surrounding areas turning out to compete. With so much talent on hand, there were plenty impressive performances, but only a select few can win position MVPs or earn a much-coveted invite to the Rivals100 Five-Star Challenge presented by adidas. We run through the players who won awards and earned their stripes at the star-studded event.
MORE RCS CHARLOTTE: Updates | Predictions | Full Rivals Camps Series schedule
QUARTERBACK MVP
The recent Florida State commit has spent most of 2018 fielding interest from some of the nation's top programs and he showed why he was such a huge piece for the 'Noles with his performance on Sunday. Howell was the most polished prospect in attendance and he was locked in all day from both an accuracy and arm strength standpoint. Howell's camp performance showed just how dangerous he can be with his arm and that combined with his on-field athleticism should have Florida State fans excited about the future. Howell won MVP honors at his position and also earned an invitation to the Rivals100 Five-Star Challenge presented by adidas.

RUNNING BACK MVP
Listed in the Rivals.com database as an all-purpose back, Houston showed his versatility on Sunday. First, he made linebackers look silly during the open-field tackling drill and he doubled down while leaving defenders in the dust during passing one-on-ones. In addition to his quick feet and consistent hands, Houston has great acceleration, allowing him to get open with ease. Penn State and Virginia Tech are among the early favorites for Houston, who walked away with running back MVP honors for his efforts.
WIDE RECEIVER MVP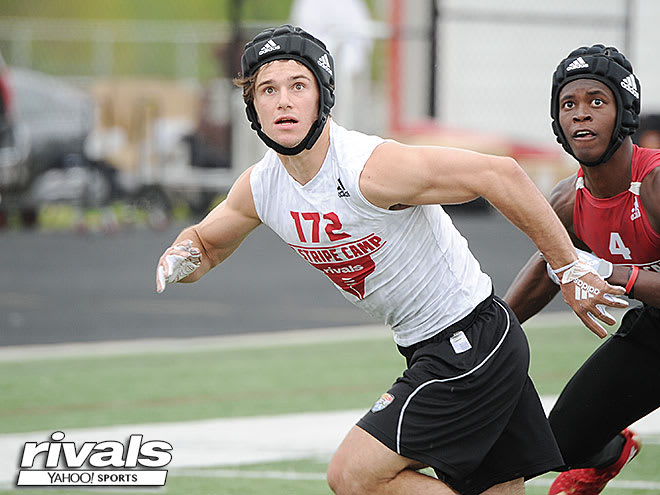 Groulx has spent the spring collecting MVPs on the camp circuit and Sunday was no exception. The Wisconsin commit runs such crisp routes he's seemingly always open and his hands never let him down as he seemed to reel in every pass that was even remotely on target that came his way. Because of his excellent spring, Groulx's stock is on the rise not only when it comes to rankings, but when it comes to his recruitment as well. Plenty of programs are likely to enter the picture as the cycle moves along and Groulx did say he intends to take a few more visits in the spring and summer.
OFFENSIVE LINE MVP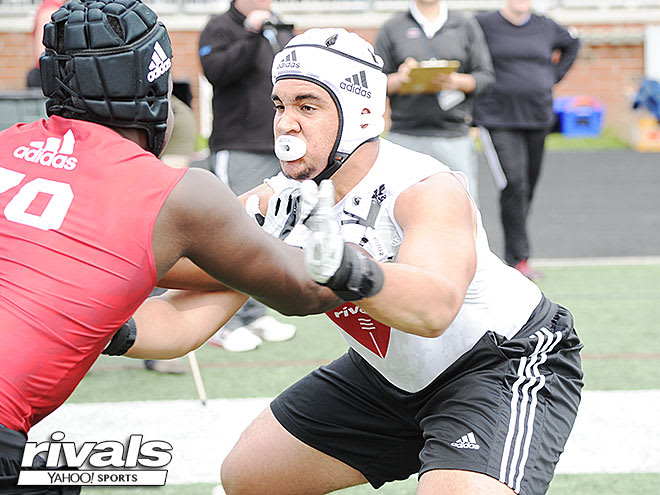 Mallard Creek High School is a powerhouse in the Charlotte area known for producing top prospects on a yearly basis and it appears as if Moorer is the program's latest star. The 6-foot-5 prospect was a load for opposing defensive linemen to deal with and his long arms and big hands, once he locked a defender up it was unlikely they were going to shed his block. Moorer earned offensive line MVP honors for his efforts. Maryland is among his early leaders.
DEFENSIVE LINE MVP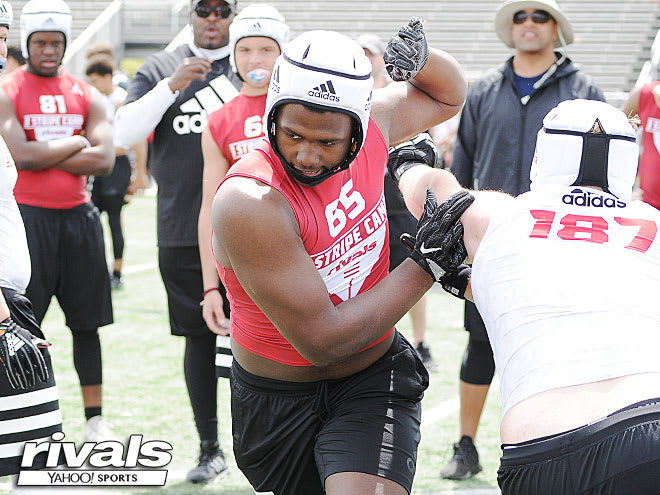 A class of 2020 prospect who has yet to receive his first offer, Capehart looked the part of a four-star on the hoof and the same could be said after watching him perform. He measured in at 6-foot-6 and 270 pounds with a 6-foot-10 inch wingspan and had no problem tossing every offensive lineman he faced aside. Capehart helped his team reach the state championship game in South Carolina last fall as a sophomore and should see his recruitment take off in the coming months as he looks like a national-level recruit. Clemson and South Carolina are obviously the schools to watch going forward for Capehart, who captured defensive line MVP honors.
LINEBACKER MVP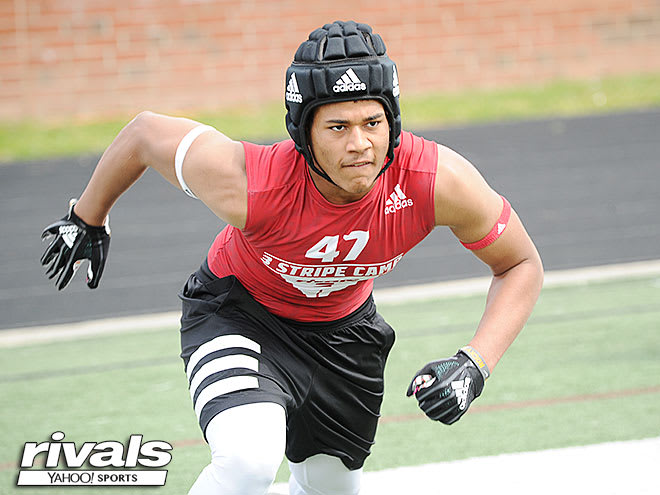 One of the nation's top prospects regardless of position, Sampah edged out a crowded group of linebackers to take home MVP honors at his position and also earn an invitation to the Five-Star Challenge. The 6-foot-1, 220-pound prospect was great in space, showing that he can run with tight ends and running backs in coverage but also that he has the type of instincts it takes to break down and hit running backs as well. Alabama, LSU, Wisconsin and several other programs have already offered Sampah.
DEFENSIVE BACK MVP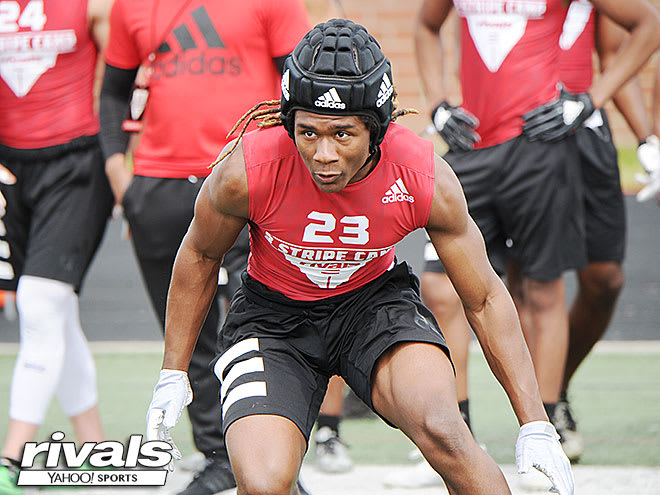 A look at Roseman-Sinclair's film shows that the safety prospect isn't afraid to deliver a big hit but on Sunday he earned defensive back MVP honors for his ability to run stride for stride with some of the event's best wide receivers. At his size (6-1, 186), Roseman-Sinclair has fluid hips and great instincts and did a great job anticipating the ball and breaking to make plays at the right time to make deflections and/or interceptions. Kentucky, North Carolina, Maryland and several other programs are involved in Roseman-Sinclair's recruitment.
GATORADE AWARD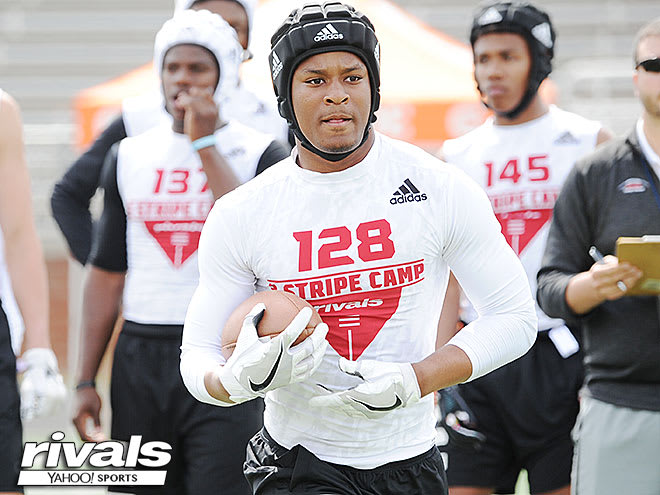 A versatile athlete who earned his way into Sunday's camp with a strong showing at Saturday's Rivals adizero Combine, Medley walked away with the award given to a camper who epitomizes competitive spirit and hard work. Medley, a high school quarterback who is looking to jumpstart his recruitment by working at other positions on the camp circuit, gave maximum effort all day and really showed that his skills could translate very well to wide receiver or defensive back at the next level. Medley has an early offer from Brown, but will surely capture the attention of FBS schools before it's all said and done.