Which programs are contenders, pretenders for Jammie Robinson?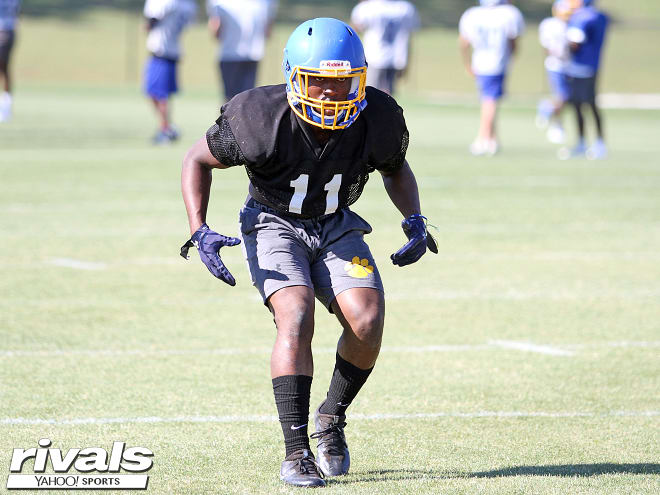 Jammie Robinson released his final six schools last week as he moves closer to a decision. The versatile athlete out of Cordele (Ga.) Crisp County is one of the top football players in the Peach State, so who really has a chance at landing him?
As we enter the summer, we take a look at the schools who are should label themselves as a contender or a pretender for Robinson.
RELATED: Who are the pretenders and contenders for Tahj Gray?
AUBURN
Robinson is very familiar with Auburn. He saw his former teammate Markaviest Bryant sign with the Tigers in 2017, so he has a good feel for the Plains. The coaching staff at Auburn has made Robinson feel like a priority and although he did not name Auburn as one of his top two recently, the Tigers are one to watch.
The verdict: Contender

GEORGIA
Georgia has turned it up a notch over the last few months and they have had Robinson on campus a couple times this spring. Quay Walker is a close friend and he just signed with the Bulldogs in February. Robinson has really connected with Kirby Smart, Mel Tucker and other UGA coaches.
The verdict: Contender

KENTUCKY
The Wildcats have put multiple coaches on Robinson and their pursuit and consistency has kept Kentucky in this race. They convinced Robinson to visit earlier in the spring and the opportunity to play early has his attention, but will it be enough?
The verdict: Pretender

MICHIGAN
Most prospects know who Jim Harbaugh is, so when the Michigan head coach made his way through Robinson's school, it meant a lot to him. The communication has been there and the Wolverines have been very active in Georgia since Harbaugh took over, but for Michigan to truly be in this race, they must get Robinson to Ann Arbor.
The verdict: Pretender

SOUTH CAROLINA
South Carolina jumped on Robinson early and it could pay off. The best relationship he has with any coach recruiting him is with Gamecock's defensive coordinator Travaris Robinson. There are a lot of similarities there — same last name, same position and both just have that confidence about them. A commitment to South Carolina was thought about in the fall, but he held off. If there is a favorite, the Gamecocks are it.
The verdict: Contender

TENNESSEE-CHATTANOOGA
Most know UTC is definitely on the outside looking in, but if you don't know Robinson that well, you likely are curious why the Mocs are on this list. It is because of UTC's linebackers coach Shelton Felton. He was Robinson's high school coach and there is a deep relationship here. Robinson did this out of respect and appreciation to the coach who he said got his recruitment started. Robinson was also the first prospect Felton offered when he started at UTC.
The verdict: Pretender
THE WRAP
Right now, this one is fairly clear — South Carolina is the front-runner. Robinson was back in Columbia over the weekend and the Gamecocks are the team to beat. Georgia has closed the gap and made a big move here, but they appear to be still trailing South Carolina. Another school that could make a run the way it looks right now is Auburn. Robinson has a connection there and he plans to visit the Plains again soon. Can the Wildcats or Wolverines become contenders? You can't rule that out, but it looks like it could be tough at this point.