Wheres all the talent coming from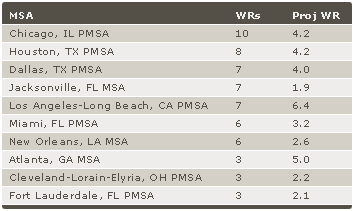 It's a simple question. Where do the nation's best football players come from? In this special three-part research-based feature, Rivals.com goes inside the numbers, taking an in-depth look at where the nation's top football talent originates. We look at and compare nearly everything, from the talent of individual states to those of city and metro areas. We compare what states and metro areas have the most players at certain positions. No stone is left unturned in determing where the nation's top football players come from.
Talent acquisition (i.e. recruiting) comprises a huge part of college football success and is far more volatile than in the NFL because of the lack of a mandatory draft and salary caps. One inks either future NFL stars or Kid Rock roadie wannabes based solely on the whims of 17 year old boys. Entertaining stuff.
As would be expected, location plays a large part in recruiting. Proximity to talent (and their famillies), territorial collegiate allegiances, regional attitudes regarding colleges, regional cultural similarities and other geographically based characteristics loom large in inking top talent. Especially in the modern game, where talent evaluation has vastly improved. For example, former all girls' school Florida State and a program formerly on its death bed, Miami, have effectively parlayed their proximity to the incredible south Florida talent pool into nearly two decades of modern football dominance.
NFL Player Production by State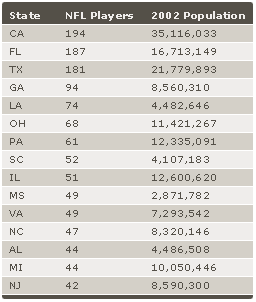 So where is this talent? Because a fairly good proxy for college success is whether a player makes the NFL, examining where NFL talent originates yields a pretty good answer. Broadly speaking, the top fifteen states turned out high school players currently active in the NFL in the numbers represented in this chart.
Those fifteen states produced 73% of NFL players. Three areas pop out:
The Gulf Coast/Southeast is heavily represented, producing 59% of those players and 48% of all NFL players, despite containing only 31% of the country's population.
The old "Rust Belt" of Illinois, Michigan, Ohio and Pennsylvania send the NFL 13% of its players while making up 16% of the nation's population.
Lastly, California powers Western production, putting out 11% of NFL players with 12% of the country's population.
NFL Production Per Capita
Looking at the numbers per capita produces somewhat interesting results.
Not unexpectedly, the Gulf Coast/Southeast dominates here, comprising seven of the top nine states per capita. Every single state in the Gulf Coast region is in the top
nine per capita states. Washington DC taking the top spot does not surprise.
As the only entirely urban state, the District has the highest per capita African-American population (59.8%) and it's not going out on a limb to say a correlation exists there (Mississippi, Louisiana and South Carolina are the second through fourth highest per capita African American population states).
However, that makes states 10-12 & 14 on the list equally as interesting, as those states have extremely low per capita African American populations (Nebraska 4.1%, Washington 3.4%, Iowa 2.2%, Idaho less than 1%). Finally, with the increased NFL success of Pacific islanders, Hawaii's presence does not altogether surprise, though its fifth place ranking impresses.
These numbers are hurting my brain. Time for a picture.

Viewing the map, it's not surprising that teams ranked highly include USC (LA-San Diego area), LSU (Louisiana), Texas (Central to East Texas), Michigan
(Rust Belt line from Northern Illinois, Southern Michigan, Northern Ohio and Western Pennsylvania), Georgia (Georgia/South Carolina) and Ohio State (Rust Belt). Neither are the presence of Miami and FSU frequently atop national polls (Florida is barely visible at all on the map). Nor is it unexpected that, with better talent evaluation,
many of these differ from the same powers in the game many decades ago. There is, however, a Tommie Harris-sized chink in this analysis' armor: Oklahoma, which sits in a state without a lot of green above, at a medium-sized school without huge recruiting advantages. It's an astounding Bob Stoops accomplishment. One also wonders why a dominant team hasn't
arisen from the DC-Maryland-Philadelphia general area (maybe Terp coach Ralph Friedgen is now taking advantage of his nearby talent?).

3