What we learned from GVSU's Best of the Midwest Football Camp
ALLENDALE, Mich. – Taking a cue, and an assist, from the Sound Mind Sound Body Academy, the Grand Valley State University football program hosted their Best of the Midwest Football Camp Sunday and brought in coaches from more than 50 college programs, including Michigan's Jim Harbaugh and Ohio State's Urban Meyer.
With more than 900 prospects taking part in the camp that lasted just four hours there was plenty to take in and a short amount of time to do so, but here are some of the bigger things we learned at the event.
Ruke Orhorhoro ready to conclude his recruitment
River Rouge, Mich., defensive end Ruke Orhorhoro made a big cut when he took his 24 scholarship offers and decided on a top four of Clemson, Indiana, Kentucky and Michigan last Tuesday. At Sunday's camp Ruke told myself and others that he was anxious to get this process finished and make his college selection. A few visits will precede his decision, though, which is expected in late June or early July. First up will be an official visit to Kentucky the weekend of June 8, followed by an unofficial visit to Clemson June 12-13 and then an official visit to Indiana the weekend of June 15. An as yet unscheduled unofficial visit will likely take place to Michigan soon after the Indiana visit.
From a performance standpoint, the opportunity to see Orhorhoro was limited by time and the sheer number of prospects at the event, but what was most obvious since we last saw him live back in the fall is that he has put on significant weight. And, it is good weight. Whereas during his junior season he had a long, lean frame and some trouble at the point of attack, Orhorhoro is now about 30 pounds heavier and solid. His explosiveness has not been negatively impacted and, whereas weakside defensive end appeared to be his future six months ago, he now appears better suited for a five-technique or even a three-technique role in college.
Prototypical wide receivers
If I had to go with one position group as being the deepest on the day, the nod would go to the receivers. It was an unusually deep collection of tall, athletic outside receiver who were showing out on Sunday, and many were underclassmen. Four-star 2020 athlete Ian Stewart could project to either side of the football in college, but worked at wide receiver and impressed to the point that Kansas coaches offered him on the spot.
Meanwhile, Bay City (Mich.) Central 2020 Devell Washington is an impressive-looking 6-foot-3, 210-pound wideout who glides over the turf and easily pops in and out of breaks. He holds early offers from Central Michigan, Eastern Michigan and Toledo, but was being closely watched by Iowa State, Michigan and Bowling Green coaches on Sunday. West Bloomfield, Mich., 2019 wide receiver Tyrone Broden did not see much action as a junior behind Wisconsin 2018 signees A.J. Abbott and Taj Mustapha, but he has blown up this spring with 15 offers since May 1 after growing to 6-foot-5 this off-season. He also had a smooth, effortless way about the way he runs his routes.
On a related note, Detroit (Mich.) King three-star wide receiver Jalen McGaughy was a revelation at the Rivals 3 Stripe Camp presented by adidas in Columbus last month after missing his junior year with injury. A Northern Illinois commit, the 6-foot-3, 202-pound McGaughy took the advice of some coaches and decided to work out at linebacker on Sunday. We did not get a chance to see him, but his performance must have been impressive because he earned a new offer from Syracuse immediately after to play linebacker.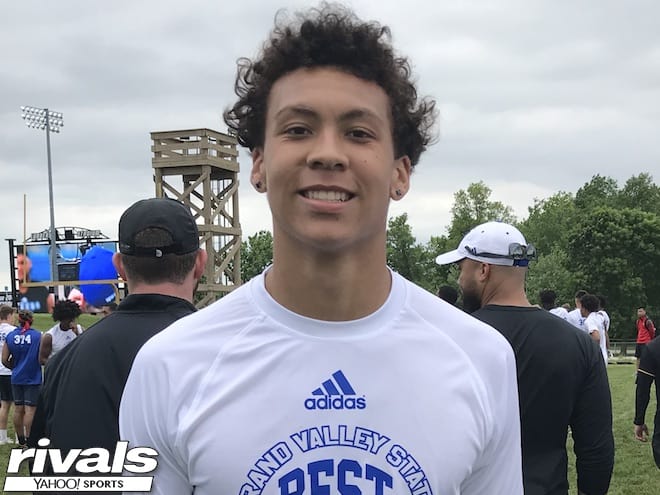 Darius Robinson's development
Orhorhoro's physical development since last fall was noticeable, but an even more significant physical progression can be seen in Canton, Mich., three-star defensive end Darius Robinson that took place between seeing him in February and where he is now. We first noticed this last month at the Rivals 3 Stripe Camp in Columbus, Ohio, where Robinson measured in at 254 pounds – at least 25 pounds heavier than where he was when he attended the Big Man Camp shortly after Signing Day.
Most impressive about the physical change for Robinson, though, is that the added weight has made a significant impact on his play. If anything, he is more explosive than before the weight gain and his ability to handle the point of attack is night and day different. That also seems to have impacted his confidence, and we are seeing him play with a new fire about him. College coaches in attendance were buzzing about Robinson's play with Michigan showing specific increased interest and asking the in-state product to do those same things at their camp later this month.
Beyond the border performances
While the bulk of Sunday's camp featured prospects from the state of Michigan, the Chicagoland area was also well-represented and a collection of top prospects from Ottawa, Canada made an appearance. In fact, prospects from as far away as California and Georgia attended Sunday's camp. From the Chicago group, three-star Anthony Williams worked with the running backs group, while brothers Athan Kaliakmanis and Dino Kaliakmanis worked at quarterback and receiver, respectively, after both having strong showing at the Chicago stop of the Rivals 3 Stripe Camp just two weekends earlier.
The collection of Canadian talent featured class of 2020 linebackers Kenny Mestidor and Akheem Mesidor, who have both been performing in elite camps for the last couple years. Mestidor actually worked at both defensive end and then cornerback as the position groups changed out for the second session. The Canadian who probably drew the most attention, though, was class of 2021 quarterback Christian Veilleux, who was being closely watched by Michigan head coach Jim Harbaugh throughout the day.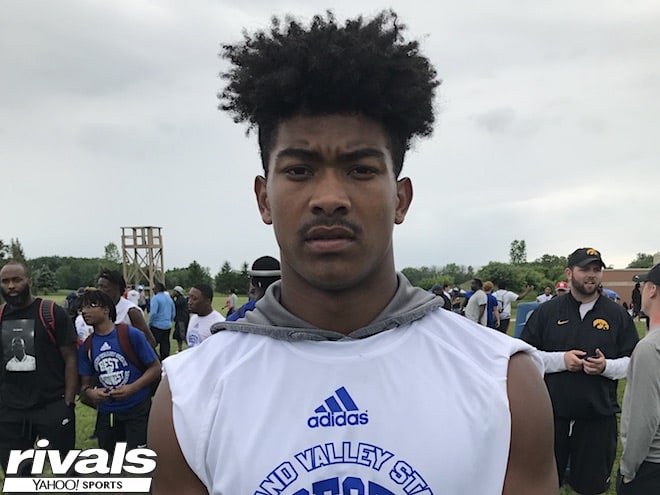 College coaches in attendance
Now that June has arrived, college coaches can host camps, and attend camps on other college campuses. One of the draws for the Sound Mind Sound Body Football Academies of the past was the high concentration of college coaches that would attend. With SMSB the inspiration for Grand Valley's camp, Sunday's event also featured a collection of college coaches from across the country.
Ohio State head coach Urban Meyer, Michigan head coach Jim Harbaugh, Eastern Michigan head coach Chris Creighton, Central Michigan head coach John Bonamego and Western Michigan head coach Tim Lester all spoke to campers prior to camp. Assistant coaches from programs across the country evaluated the on-field action and a few offers were extended. Among those in attendance were Oregon's Bobby Williams, Iowa's Kelvin Bell, Kansas' Justin Johnson, Ohio State's Greg Schiano as well as assistants from many Mid-American Conference and Div. II programs. Michigan brought its entire staff, and Harbaugh was closely evaluating prospects throughout the day.