What I Liked: Chad Simmons saw stars in Alabama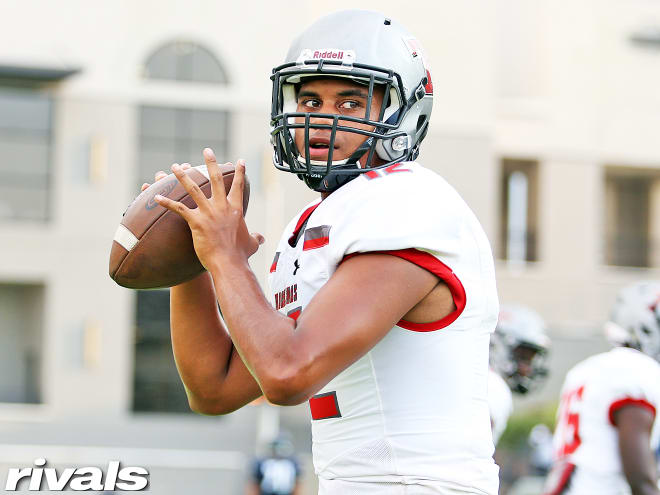 After covering nine games in Georgia at the Corky Kell Classic last weekend, I was in Alabama this week for four games. Some of the top prospects in the country were involved in those games and many did not disappoint.
BEHIND THE SCENES: Jamil Burroughs is a Georgia Bulldog
WHAT I LIKED ...
... Tagovailoa's arm
Many are wondering if Tua Tagovailoa will beat out Jalen Hurts for the starting quarterback job in Tuscaloosa. We don't have to wonder about Taulia. He is the starter at Thompson (Ala.) and the Alabama commit made it look easy at times against Madison (Ala.) James Clemens.
He finished 26-39 for 373 yards and four touchdowns. The four-star has to have one of the easiest deliveries in the country. With just a simple flick of the wrist, the ball comes out hot for the Rivals250 talent. He was making throws from the pocket, outside the pocket, on the run and he was just impressive overall.
Tagovailoa may not be 6-feet tall, so that could be a knock on him if you are looking for one, but he is a quarterback who can make all the throws, he can extend plays with his legs, he is a leader and a competitor. His arm strength was very impressive Friday night. If anything, he could have shown a little more touch on the ball with some throws, but overall, he was sharp. He will have the Warriors deep in the playoffs later this year. I really liked what I saw out of the No. 6 dual-threat quarterback in the country.

... a 2021 quartet
A lot of eyes were on the 2019 and even 2020 stars, but there were a handful of younger prospects that caught my eye, too.
Armoni Goodwin transferred from Florence (Ala.) to Trussville (Ala.) Hewitt-Trussville and he is an elusive back with quickness and balance. He scored 29 touchdowns as a freshman and he got off to a strong start, rushing the ball 23 times for 149 yards in his debut for the Huskies. Ole Miss, Southern Miss, Tennessee and UAB has already offered.
Early in the game, cornerback Ga'Quincy McKinstry of Pinson Valley (Ala.) picked off a pass and almost took to the house. He is a 6-foot-1 defensive back with length, instincts, ball skills and athleticism. He is a prospect who could become a national name before all is said and done. Alabama, Auburn, Georgia and Tennessee are a few schools that have already offered.
At Hoover, there is depth, so running back Dylan Pauley is waiting his turn. With the Buccaneers taking control of the game against Pinson Valley (Ala.) fairly early, Pauley had his name called. He got in, carried the ball a few times, ran hard and scored a touchdown. Pauley is a physical back that bounced off a few would-be tacklers when he had his chance late in the game. He may not be one that puts up big numbers due to depth in front of him, but he is a definite Power Five talent that you will hear a lot more about in the future.
Tre Roberson did not play as much as the others because he was only been at Alabaster (Ala.) Thompson for around a week. He transferred from Birmingham (Ala.) Homewood late in fall camp, so he is still learning, but he stood out in pre-game. He can run, he has length and he was receiving the ball well. Arkansas and UAB have already offered and Roberson is one to watch moving forward.
... Ashford's coming out party
This was a day 2020 quarterback Robby Ashford has been waiting for. He put in the work, he sat behind an upperclassman at Hoover (Ala.) the last two years and he missed spring due to a torn labrum in his right shoulder, so he has worked extremely hard to be where he is today.
It was his first start. He plays for one of the top high school football programs in the country and he was playing in front of a larger audience on ESPN. No pressure, right?
To top it off, he took a hit on the side the first play from scrimmage and limped off the field. Guess what — he came back in the next play. He went right to work.
Ashford was extremely impressive. I have mentioned him in the past as a prospect to watch this season because he could play his way into the Rivals100. He has a big arm, is athletic, and will face stiff competition all season. He performed at a high level against Pinson Valley (Ala.).
After throwing an interception on his second throw of the game, he settled in to throw for 383 yards and four touchdowns. He completed 23-of-34 passes and he used his legs to pick up numerous first downs as well.
Ashford was throwing bullets out there. He also showed some touch on deep balls. He stood in the pocket, went through his progressions and made a strong case early for a higher ranking. He is still not 100 percent. He was cleared to throw the first week of fall camp, so he has been throwing for less than a month. It will be fun to see where he is at later this season.
Auburn, Florida, Georgia, Mississippi State, Missouri and NC State are some of the schools that have offered. Clemson had him on the phone after his game Saturday too. He visited there in June.
... Haselwood's effort
Whatever Ellenwood (Ga.) Cedar Grove needed, Jadon Haselwood did against Trussville (Ala.) Hewitt Trussville. Of course the five-star wide receiver played offense, but he also played safety, cornerback and special teams. You can count on one hand the times Haselwood came off the field Saturday afternoon.
What he did will not all show up in the stats column, but he was a big part of his team's 34-30 win. He finished with 74 yards on three receptions with a 44-yard touchdown. Haselwood had a big kickoff return and he blocked a key extra point in the second half. He also had over half a dozen tackles at safety and covered four-star wide receiver Dazalin Worsham, an Alabama commit, for about half the game.
The effort stood out. His leadership did, too. It was easy to see the talent as well. He was double- and triple-teamed at times in this contest, but stayed confident. He showed no frustration and was pushing his teammates from the start.
The Georgia commit was impressive for four quarters.

... Pickens' playmaking skills
George Pickens is elite. I could just type that and be done with it.
The Hoover (Ala.) wide receiver is a newly minted five-star on Rivals.com and he once again showed why. His size makes him stand out immediately, but there is so much more too him.
In a game on ESPN against Pinson Valley, he put on a show. He caught seven passes for 117 yards and two touchdowns (28 and 33 yards). He showed he could get behind defensive backs, he flashed great ball skills and he was too much to handle.
At times, Pickens looked like plastic the way his feet would stop with his body leaning and then he would re-direct after making defenders miss. He has truly become one of the top prospects in the 2019 class and I loved what I saw out of him Saturday. The Auburn commit has really come into his own the last six months.

... Commodore commits
Madison (Ala.) James Clemens has a couple of Vanderbilt commits on the roster and each showed their SEC talent in a loss in the season opener.
This was more than just a game one for quarterback Jamil Muhammad. He is coming off a torn ACL, so he has been counting down the days to the first game of the season. He had a strong performance. His team fell to Thompson 38-7, but he finished 17-of-25 passing for 242 yards and a touchdown pass. Some schools recruited Muhammad as an athlete, but he has always wanted to play quarterback. He is a big, strong athlete who can extend plays and he showed a live arm Friday as well.
His teammate, defensive tackle Daeveon Davis drew a lot of attention in the middle, but this commit could end up being a steal for the Commodores. I really like his power, his ability to play with leverage and he showed he can penetrate the backfield too in this contest. He is one I could see some schools moving on later this fall and offering once they see him play this season. No defensive tackle is going to show up in the stat line like a quarterback, but Davis did his part in this contest. He has a chance to be a good one in the SEC.