West Virginia wins out for OL Oyenmwen Uzebu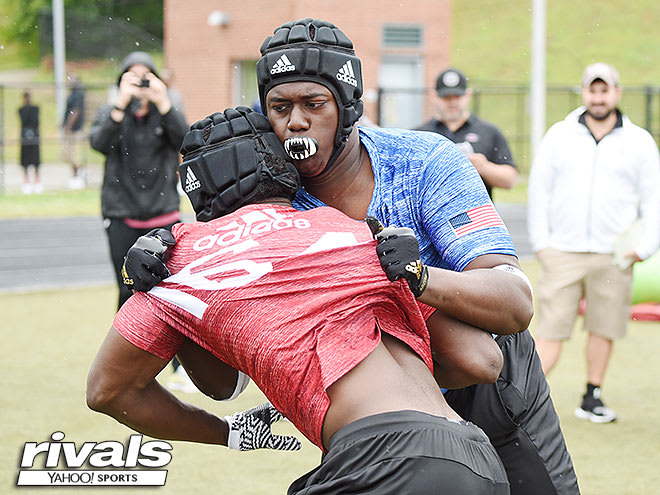 West Virginia has picked up a commitment from Alpharetta (Ga.) offensive tackle Oyenmwen Uzebu.
The 6-foot-6, 290 pound senior has over 20 scholarship offers, and the decision wasn't easy, but he got it down to Syracuse and West Virginia before committing to the Mountaineers.
IN HIS OWN WORDS: "It was a very tough decision, but I made it last week," said Uzebu. "Syracuse and West Virginia were two amazing places that I could see myself become not only a better athlete at, but better man also. I spoke to my friends and family about it, I prayed about, and ultimately, it was my decision."
CONNECTION AND FAMILY FEEL: "I chose West Virginia because they have a great coaching staff and the the players are great. Coach Wick (Joe Wickline, offensive line) really is the guy for me. When I called up coach Wick to tell him I was committed, there was a little pause, then a yell.
"He is the guy to help me develop into a monster and I love his passion for the game. Another reason I chose them is because I felt like a family, not like just a football team. Coaches love their players there and everyone in the town, including the players love each other. That's a true family. They will always have my back and I will always have their's.
WICKLINE'S PLAYED BIG ROLE: "The visit up there was great. The major thing that stood out was coach Wick. Most coaches talk to recruits all cuddly, bit with coach Wick, he was his true self. He said, 'It's not going to be easy, and I'm going to be on you hard, but it's because I love you and we're going to turn you into a great football player'. We went into his office and talked ball for almost an hour. I see the fire in his eyes to want to win and that's what I want also."
MOUNTAINEERS OVER ORANGE: "The decision was extremely tough. I had to pray on it, but at the end, they both had bright futures for me, they both an amazing coaching staffs, they both have great 2018 recruiting classes, they give me great opportunities, so at the end it was which felt more like home? Which place can I see myself coming back from the NFL and being an alumni? And it was West Virginia for me."
RIVALS REACTION: This is a big get for West Virginia. Uzebu's best football is ahead of him. He is still a little raw, but with his excellent frame and ability to be coached up in the future, he could be a real steal for the Mountaineers. He is always working hard, he wants to learn and he has the length and feet that attracted a lot of coaches this spring. West Virginia is pulling some real talent out of Georgia and Uzebu is the latest to pledge to the the Mountaineers.