West Region spotlight: Prospect stock report
It's about halfway through the season in the West, and we've been out on the road to see as many talented prospects as possible. Here are some that are impressing and some that have underwhelmed a bit.
STOCK REPORTS: Midwest | Southeast | Mid-Atlantic
STOCK UP
Spiker could be the best receiver in the West behind five-star Amon-Ra St. Brown. He's that good and that explosive. The four-star Washington commit has excellent size and length, plus he's a smooth runner who can take short passes and make people miss, go across the middle on crossing routes or stretch the field deep. Spiker has excellent hands and he just plays the game so smoothly and effortlessly but still puts up huge numbers every time he's on the field. The Huskies are getting a good one in what has become an absolutely loaded receiver class.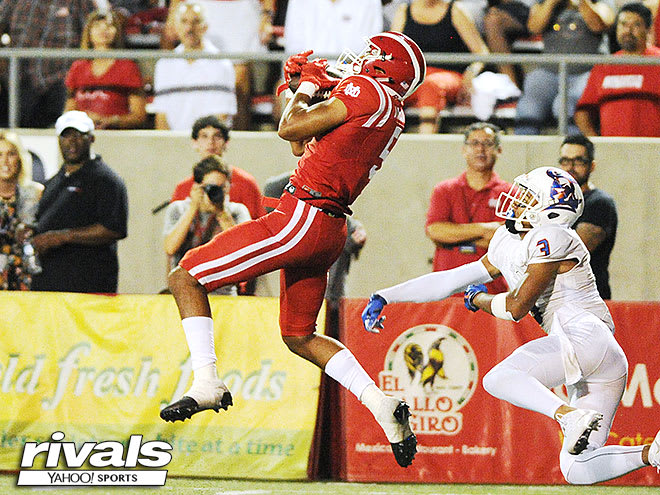 McCoy missed almost all of the offseason with a shoulder injury – and that means 7-on-7 events or camps nearly every weekend – but he's come out in his junior season and made a statement. The 2019 four-star looks exceptional physically, he's a great route-runner and he's strong enough to fend off smaller cornerbacks hanging all over him. He wins a lot of 50/50 balls and has shown to have strong hands to rip the ball out of the air. There's a chance McCoy could also play linebacker but he's most special at receiver and he's one of the best on a team loaded at that position led by St. Brown and four-star Cal commit Nikko Remigio, who's also having a big year. USC, Ohio State, Alabama and other national programs are involved.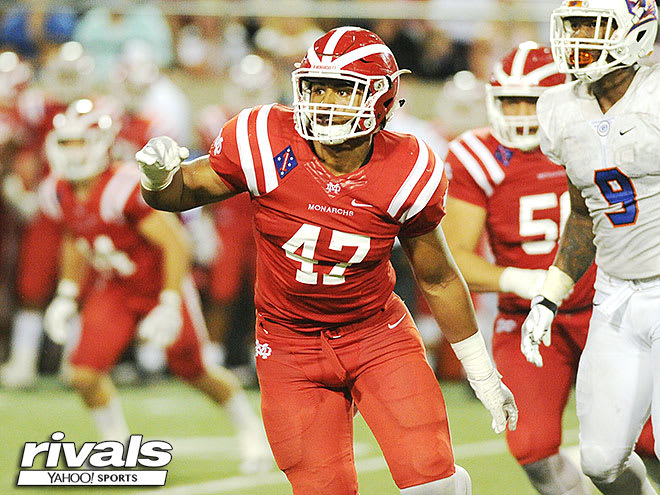 On the other side of the ball at powerhouse Santa Ana (Calif.) Mater Dei is Funa, a hybrid defensive end/outside linebacker who is a playmaker. The 6-foot-3, 240-pound prospect in the 2019 class lives in the backfield and is always around the ball. Against Las Vegas Bishop Gorman earlier this season, Funa was completely unstoppable and dominated Gorman's offensive line. He's a special talent who will probably grow into a straight defensive end as his career continues. BYU, Cal, Notre Dame, Oklahoma, USC, Washington and others are in the mix.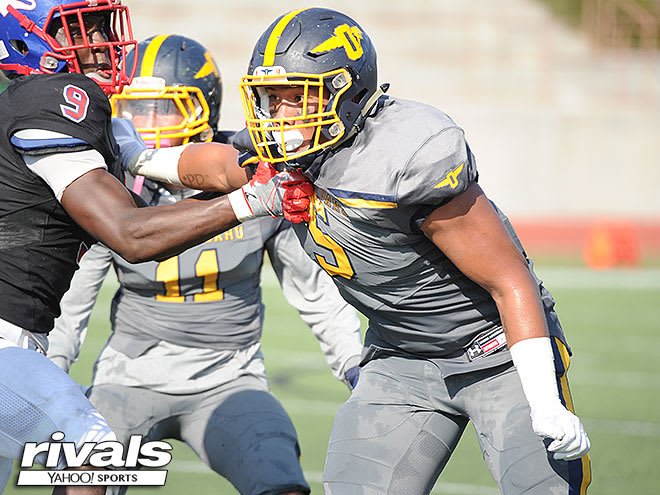 Tufono is one of the best-looking linebackers in the 2019 class. At 6-foot-3 and 220 pounds, the Honolulu Punahou standout has excellent size and length, moves really well, covers from sideline to sideline and is not afraid to stick people coming through the middle. He's definitely a big-time prospect and someone who could easily be an even bigger national recruit. When I saw Punahou earlier this season, Tufono left the game early with cramps but he had a huge impact, he hits hard and he looked great. Notre Dame, Oregon, USC, Washington and others are coming after him.

LaValle has the potential to be special at Arizona State. He's a hard-hitting, physical middle linebacker who loves to play with toughness, grit and speed. He's a tad undersized, especially to be elite in the Pac-12, but his physical play and his desire are at the highest level. That's why he's a tackling machine at Mission Viejo. The Sun Devils pledge can run sideline to sideline, he plays downhill, gets to the line of scrimmage and then lays the wood. He's always around the ball and always wants to make an impact.

STOCK DOWN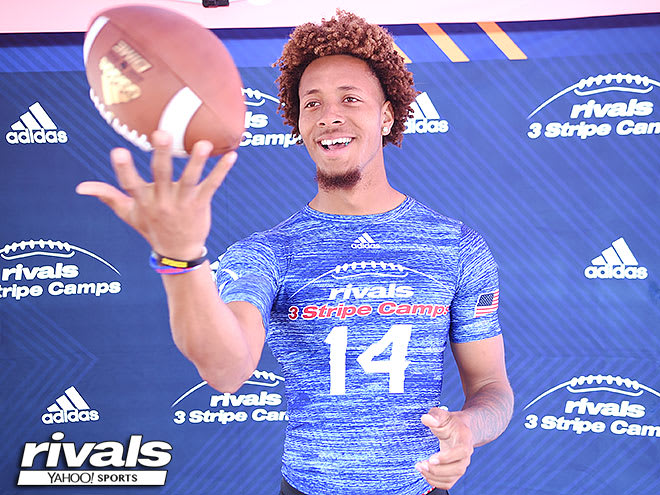 Hall has been on the national stage for years, so maybe the microscope is more on him than others. He has been dominant, especially earlier in his high school career, but has not progressed as much as we'd like to categorize him as one of the top receivers in the country. The five-star still has glimpses of exceptional play, but he needs to be more consistent, show better speed downfield and win more 50/50 balls. USC, Nebraska, Ohio State, LSU, Florida and many other top programs continue to pursue him.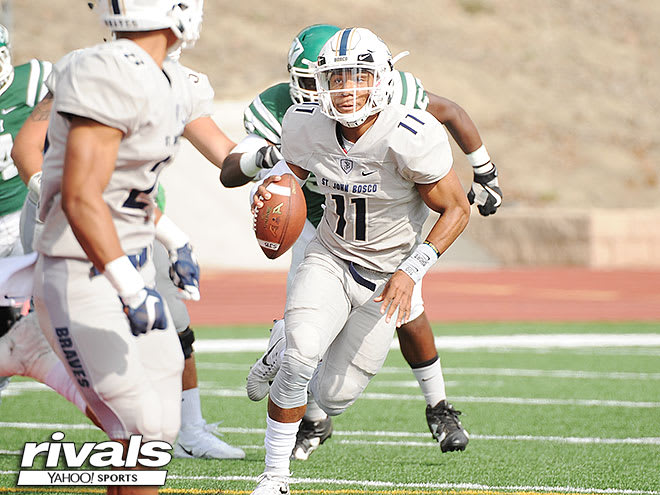 There is absolutely no question Mitchell is a phenomenal athlete, but his passing ability continues to be an issue. The Iowa State commit has only completed about 60 percent of his passes for six touchdowns and five interceptions and his deep throw has been especially inconsistent. Mitchell can continue to work on his craft and be a special quarterback because of his dual-threat abilities, but he's just not there yet. Athletically, there are no questions about him. After all, his mother was on "American Gladiators" and his dad is a Marine.