Well-rounded Tomlinson owes it to mother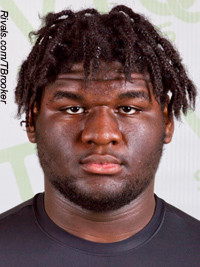 Dalvin Tomlinson
logged onto Facebook not long after the sun came up last Sunday morning. He didn't go there to check messages or look at photos. Instead, the 17-year-old Henry County (Ga.) High senior, one of the country's most heralded football recruits, posted a brief message to the woman who raised him.
Happy b day mom wish u were here so that we could share it together love you always your son Dalvin. R.I.P Melinda Tomlinson
Tomlinson's mother would have turned 41 on Sunday. But her life, one filled with its share of heartbreak and setbacks but also a great joy that came from motherhood, ended suddenly on June 30, 2011, when her body succumbed to a variety of illnesses, most notably diabetes. She left behind two sons, LaBronza, 19, and Dalvin.
"I think about her every day," Dalvin said.
******
At Henry County High, Dalvin Tominson is the proverbial big deal.
He is no ordinary football player. A 6-foot-3, 265-pounder, Tomlinson is rated as the country's No. 145 prospect, and No. 11 among defensive tackles. A relentlessly aggressive player, Tomlinson has so many scholarship offers, he claimed to have lost count. The offers have come from schools such as
Alabama
,
Florida State
,
USC
and Harvard.
That's right, Harvard.
Tomlinson also is no ordinary student. He takes mostly honors and Advanced Placement courses, and proudly claims a 3.9 GPA. In college, he plans to pursue a major in business or engineering. A teammate, quarterback
Chris Moody
, calls Tomlinson the brightest guy he knows.
"I thought I was smart," Moody said. "When they told me his GPA with AP and honors classes, it made me feel bad."
This isn't all Tomlinson does well.
In addition to his football and academic exploits, he is a two-time state wrestling champion in the heavyweight division (his career record is 120-2), standout track performer, talented artist and musician - he plays both the trumpet and saxophone well - and, yes, he even is supposedly a pretty good singer.
"We call him the Renaissance man," said Henry County coach Mike Rozier, who is not the former Heisman Trophy winner from Nebraska."He's got a lot of interests."
From where did Tomlinson get all of this ability?
"I really don't know," the soft-spoken Tomlinson replied.
What he does know is that it was his mother who pushed and pushed and pushed him to excel at no matter what endeavor he pursued, particularly his school work.
"She was hard-working and never gave up," Tomlinson said. "When I was younger, she stayed on me every day. By the time I got to high school, it was natural. She struggled. She wanted me to be successful."
******
Who exactly was Melinda Tomlinson?
Those who knew her, called her a motivated, personable person, a loving mother, an active parent. She was fun to be around. She liked to laugh. More than anything, she loved her sons, they said. According to her older brother, Eddie Tomlinson, LaBronza and Dalvin "were her heart."
Locally, Melinda was quite well known. In Henry County, the Tomlinson name is significant to many. The family has lived there since pre-Civil War, Eddie Tomlinson said.
Further illustrating the family's significance is this: Henry County High is located on 401 Tomlinson St. That property once belonged to James Tomlinson, a prominent local farmer and bricklayer. He also happened to be the brother of Dalvin's grandfather.
Melinda was one of eight children. She wasn't the first to pass. Sadly, a sibling died of complications from bone cancer as a teenager in 1976, a death that shook the family to its core. But faith pulled the Tomlinsons through that difficult time, said Eddie Tomlinson, a pastor at Good Hope Baptist Church in nearby Newton County. It wouldn't be the last time.
While in her early 20s, Melinda gave birth to her children. Willie Gleaton, Dalvin's father, and Melinda never married but remained close. And Gleaton was around a good bit, according to Melinda's brother. But when Dalvin was only 6, more tragedy struck the family when Gleaton died of lung cancer, leaving Melinda to raise LaBronza and Dalvin on her own.
"That was a pretty difficult time," said Eddie Tomlinson. "We rallied around her and supported her. Whenever she needed help with the boys, we were always there."
Melinda never went to college, but through hard work made something of herself despite the challenges of raising two children. Eventually, she would become manager of a local Burger King.
Two years ago, however, her health took a turn for the worse because of the diabetes, which is prevalent in the family (Melinda's father had it, as do two of her siblings). Ultimately she had to quit her job and go on disability.
Despite being unable to work, Melinda tried to stay active. On Friday nights in the fall, she attended Henry County football games (LaBronza also played there). She was vice president of the team's booster club.
"She was very involved in the club," Rozier said. "And she cooked on Friday nights in the concession stand."
What nobody knew was that Melinda's body was beginning to shut down.
"Melinda was the type of person, if she didn't tell us she was sick, we'd never know," her brother said. "She never slowed down. Never stopped going."
******
On June 29, Dalvin was informed his mother was in a local hospital.
"I thought she was a little sick, but it wasn't major," he said. "She told me she'd be OK, and I didn't think it was anything."
At the hospital, Tomlinson spent a couple hours in his mother's room, and the two chatted at length about the usual stuff.
"She asked about which college I liked the most, we talked about my brother and about my senior year," Tomlinson recalled.
It would be their last conversation. The following morning, Tomlinson learned the severity of the situation.
"My aunt came over to the house and woke me up," he said. "She was crying. She told me my mom was on life support."
Realizing how urgent things were, an uncle went to get Dalvin's brother in Nashville. With family members pouring in at the hospital, Dalvin managed to sneak in more time alone with his mother.
As he stared at her, tears fell from his eyes, he said.
That afternoon, Melinda Tomlinson, the woman who had been through so many difficult times and raised two children by herself, passed away.
******
For Dalvin Tomlinson, the future looks incredibly bright.
He will make official visits to a handful of schools this fall (definitely Alabama - and probably
Clemson
,
Georgia Tech
,
Indiana
and one other campus) before selecting a college by the beginning of December. Tomlinson doesn't give many hints, but said he would "probably stay in the South." At best, Harvard is a longshot, but he nonetheless was thrilled by the Crimson's interest. So was his mother.
For now, he's living with Mary Tomlinson, Melinda's sister. Dalvin's brother took a break from school and currently is in Henry County, but will head back to Nashville come January.
Tomlinson won't come out and say it, but he hinted that getting by has been difficult. The last few months have all been surreal, he confessed. His coach and teammate marvel at how well he has handled things. His uncle, however, doesn't think the death of Dalvin's mother has really sunk in yet.
The biggest, baddest and possibly most gifted student at Henry County High seems confused by it all. He often finds himself crying.
Melinda Tomlinson is buried at Rose Garden Cemetery in McDonough, the final resting spot for many in the family. Dalvin stops by to visit now and then, sometimes with other family and sometimes by himself. Whenever possible, he says a few words to the woman who raised him and instilled such a work ethic and drive to excel at everything.
"Basically," Tomlinson said, "I just tell her about my achievements and how I'm doing in school."
And he's sure that his mom would be proud of him.
[rl]