Ward looking to impress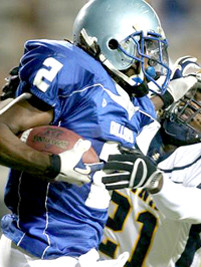 The Nike Training Camps are revealing rising stars on a weekly basis and one player whose stock is up is Ft. Lauderdale (Fla.) Dillard running back
Trabis Ward
. At the Miami Camp, Ward was named the running back MVP and showed why he is so highly regarded within the state of Florida.
"It was a lot of competition out there," Ward said of the event. "You jut know you gotta step out. That was a day that I felt there were the best players in South Florida out there and I just had to prove myself."
Ward did prove himself and he did it against players such as Rivals100 members Jaamal Berry and Frankie Telfort.
"That's something I love doing is competing," he said. "With me going down there and showing what I can do, I love going against the best."
Ward has no offers to date but lists Miami, Georgia and South Florida as some programs that are showing him a good bit of interest. He hopes to stay busy this summer by hitting some college campuses for camps.
"Me and my coach have been talking. We're going to try to get to Auburn, Georgia, LSU, we're going to try to get to a couple more camps."
While hitting the camps and campuses, Ward will be working on his game that is already very complete.
"I can do a lot of things," he said. "I'm big. I can run over you or past you or I can give you a move. I'm working on my ball switching and things like that, the little things."
The 5-foot-9 200-pound prospect has two schools of note that he hopes to hear more from that are very successful. The way those programs find success is what interests Ward though.
"The two are LSU and USC," he said. "They run the ball. They do what I like. I think I'd make a good fit."
Ward rushed for 1,703 yards and 21 touchdowns as a junior on 232 carries.