VTO Tampa: What to watch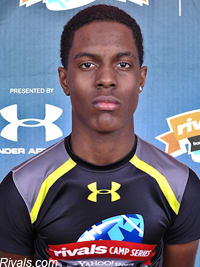 The VTO Sports Elite 100 series makes its next stop in the heart of Florida on Saturday. Beginning at 10 a.m. at Plant City High School, the camp will feature several prospects of interest to those that follow recruiting and high school football in the Sunshine State.
The host school will have several of its own 2015 prospects in action as offensive lineman Alibel Fragaso and Russell Kemp as well as wide receivers Deondre Gatlin, Austin Williams and Jorge Navarrete are set to participate.
VTO also gives young high school athletes an opportunity to showcase their skills on a big stage, and 2017 prospects hoping to impress include linebackers Tyler Smith (Forest) and Terry Robinson Jr. (Fleming Island) and quarterback William Gunther (Solid Rock).
Lake Gibson cornerback Devan McAllister had four interceptions, 23 solo tackles, five pass deflections and one forced fumble in 2013. He also made a big impact in the kick and punt return game as well. The 6-foot, 170-pound prospect hopes that his stock will rise with a solid camp performance.


[rl]