Visits coming for Williams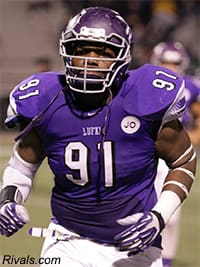 The interest continues to pour in for Lufkin (Texas) three-star defensive tackle
D.J. Williams
. The 6-foot-3, 270-pound defender holds offers from Kansas, Missouri, Houston, Miami, North Texas, and Oklahoma, and recently a Pac-12 program has come on strong.
"The newest person to show face is Washington State," Lufkin assistant coach Alton Dixon said. "They got in I'd say maybe a month ago. They're supposed to be coming sometime next week or the week after and I believe they're going to offer him. He hasn't said that to me but the way he's talking it seems to me that they're going to offer him. That's probably the newest of anything."
He took his visit to Kansas in October and his visit to Missouri is scheduled for December 13. Kansas did their in-home visit on Monday and by all accounts the visit was a success.
"Monday they came and did their in-home visit and they had a good time," coach Dixon said. "They talked and coach Weis was really high on D.J. I think he did a really good job of speaking to the grandmother about the educational points and he spoke very well to D.J. about the playing early as a freshman aspect."
Missouri is planning to be in town for its in-home visit on Thursday.
With signing day approaching, Dixon believes a decision could be coming in the near future as well.
"His decision will be made within that first or second week after the break," coach Dixon said. "We get back on (January) 6th so sometime between the 6th and the 18th he's going to make a decision."
Is a leader beginning to emerge?
Coach Dixon did not know for sure, but he did have a few thoughts on the subject.
"In my opinion I think Missouri is where he's wanting to go," coach Dixon said. "I say that because the relationship he's built with coach K is really good. Coach K came into D.J.'s life at a really good time when D.J. wasn't playing well and he kind of spoke to some things about it. I think that pulled him out of the funk and made himself conform to what he wants to be. I think that had a lot to do with Missouri. And also the winning and being in the title game and all that stuff. "