Visit then decision for Maclin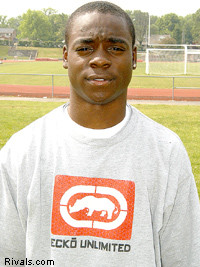 It appeared only moments away from a commitment for St. Louis (Mo.) Kirkwood receiver
Jeremy Maclin
after a trip to visit the Sooners this past weekend, but now it looks like it will take one more trip.
Texas Tech will be the final visit on his schedule and after this Sunday's trip to Lubbock (Texas) to see the Red Raiders' stuff, a decision will follow.
"It's whatever catches my eye," Maclin said about what will get a commitment out of him. "I guess you could say I was kind of close to committing at Oklahoma. It was just totally different than what I thought it was."
Illinois, Texas Tech, and Oklahoma are all tied up which make his final three. After his final trip, days will separate his travel time and a decision.
"A couple of days after the visit to Texas Tech, I'll know," he said. "I would say that would be the longest. This will decide it this weekend on where I'm headed."
Maclin is rated the No. 3 overall prospect in the state of Missouri and a member of the Rivals250.