Virginia lands 2022 TE Karson Gay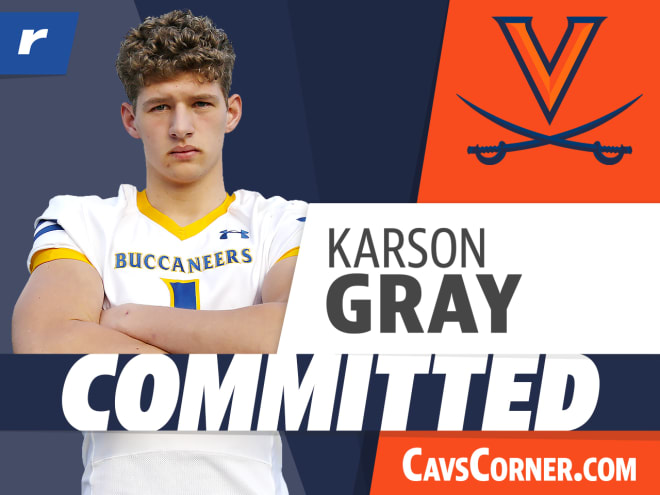 THE SITUATION: Chattanooga (Tenn.) Boyd Buchanan tight end Karson Gay is a 6-foot-7, 218 pound junior with double-digit offers. He thought his recruitment would take a little longer, but he knew almost a month ago where he was going. Gay took his time, he had some deep talks with his family, and he has committed to Virginia. He committed to the Cavaliers over BYU, Indiana and Virginia Tech. He took a trip on his own to Charlottesville late in January, and he left that visit feeling he had found his future home.
IN HIS OWN WORDS: "I told the Virginia coaches about my decision Wednesday," said Gay. "I sent a text to coach [Evan] Butts (regional scout) about it first, and he got on the phone with me right away. He couldn't believe it. Then I got on the phone with coach [Robert] Anae (Offensive coordinator/tight ends). Right after that, I talked with head coach Bronco Mendenall. He accepted my commitment, he talks about how excited he was about having more and it was great.
"I have gotten really close to coach Butts and coach Anae. Coach Butts assists coach Anae, so he is always checking on me, asking if I need to speak with a coach, and answering any questions I have. Coach Anae has been great with me and my family. He made me a priority, he got to know me, and we have a great relationship.
"Virginia recruited me like no other school. They showed the most interest, they really know me, and every weekend, we did what we called Football School, and that showed me a lot. We would do zoom calls, and talk football, I would get to know different coaches, and they really did a great job recruiting me. They were just different.
"I got to go up there to walk around and see some things late in January, and the visit was great. It was not normal, and I didn't get to go into place, and meet with the coaches, but I got the vibe for the campus, I saw how a lot of the things are set up, and I really like how the school is about growing the players and persons on campus as individuals. It just fit me.
"I talked about it with my parents, and we felt there was no reason to drag it out, so I am ready to shut it down with my commitment to Virginia. The staff is very personable, they are all great guys, and they are about a family as a whole. The team wants the best for each other. They push each other and care for each other. How they made me a priority was big for me too. Virginia is everything I am looking for in a school with academics and football."

RIVALS REACTION: Gay is an athletic tight end that is more of a FLEX. He is long, lean, and he is best when flexed out and running routes. With that said, he has shown the ability to put his hand in the dirt and block. He takes pride in that as well. But his biggest strength at Virginia will be creating mismatches, making plays in the red zones, and giving the Cavalier quarterback a big target to throw to. He has strong, reliable hands, he has good body control, and Gay is going to add good muscle on the next level. He is a basketball player too, so he is a big athlete with some upside.