Victors recruitment becoming more inclusive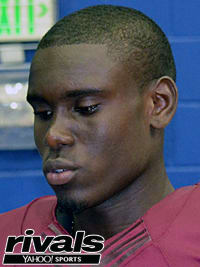 Binjimen Victor
's recruitment includes a lot of assumptions. Most assume that Victor was set to announce a commitment to
Florida
earlier this offseason before canceling his announcement. Most also assume that it was a late pitch from
Ohio State
that drove his decision to postpone things.
The Rivals100 wide receiver isn't on record confirming anything of the sort. He's also passed on the opportunity to dispute that take on several occasions. What's certain is that Victor's recruitment came extremely close to having a different feel at this juncture. Whatever the case, though, the Coconut Creek (Fla.) High School is start remains an uncommitted prospect in the process of planning official visits.
And, on that front, he's making progress. Victor will take officials Ohio State and
Tennessee
. No dates for such trips have been set as of now, but the two programs have cemented themselves as destinations.
"
LSU
,
Auburn
,
Georgia
,
Louisville
,
Florida
,
Miami
… It's all of those," Victor said. "I'm wide open obviously, but some new schools are getting in the mix," Victor said. Like I said, I'm starting to feel Louisville, Auburn and LSU."
There's no reason to expect a verbal commitment to take place anytime in the near future. Instead, Victor is content to let his senior season play out before addressing his college future. He's zeroing in on a new decision date and seems to have it narrowed down to two options.
"It's gonna be after the season," Victor said. "It's going to be the Army All-American Game or Signing Day. It'll probably be the Army game."
Even as the framework of Victor's recruitment has shifted, his deciding factors have not. That stuff has been a constant.
"It's definitely playing time and the offense," Victor said. "I want a school that fits me. I want coaches that get me. I know they say coaches come and go, but I still want to have a great connection with the receiver coach and the head coach."