Versatile guard Jalen Hood-Schifino lining up visits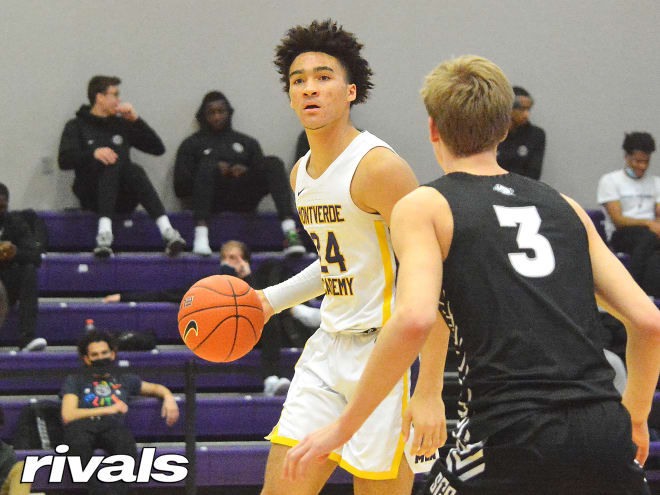 Jalen Hood-Schifino is ranked the No. 32 player in the 2022 Rivals150. The Montverde (Fla.) Academy guard has a unique style and is coming off a Geico National Championship.
"I feel like I am a two-way guard. I play the best with the ball in my hands, but I have the versatility to play off the ball as well," Hood-Schifino said. "Obviously, on defense, I have gotten way better. I want to guard the other team's best player at any perimeter position. I feel like I am able to really do a lot on the floor. A lot of older people think I play like Jason Kidd, I have watched some film on him and I can see some similarities for sure."
The 6-foot-5 Hood-Schifino is playing this summer with the Team CP3 (NC) EYBL program and spent these past 12 months continuing to develop his game.
"COVID changed a lot of things, for me I thought it was good timing. I was able to really just stay in the gym and work on my game a lot," Hood-Schifino said. "Me making the move to Montverde, that elevated my game, as a whole, to another level as well. Every day you're playing against the best players in the country. Every day we go super hard and have the best coaches pushing you. Competing with those guys just improved my entire game."
Not surprisingly, a player as highly thought of as Hood-Schifino has a host of schools wanting to secure his signature.
"I have a couple of visits set," he said. "June first, I am going to Wake Forest on an unofficial. June 13 through the 15th I am going to Tennessee, June ninth through the 11th I am going to Georgetown. I am going to Pitt June 16th through the 18th, and then at the end of the month I am going to Indiana from June 28 through the 30th."
*****
MORE: Prospects likely to see offer lists grow
2021 Rankings: Rivals150 | Team | Position
2022 Rankings: Rivals150 | Team | Position
2023 Rankings: Top 30
*****
IN HIS OWN WORDS 
Indiana: "The history of Indiana is great. They have a new coach is Mike Woodson, who just got the job. He hit me up almost immediately after he was hired and I have gotten a good feel for him. I have been talking to coach Woodson and (assistant) coach Kenya Hunter a lot, and I am definitely excited to be going on that visit."
Pittsburgh: "Originally, I was committed to them. You know, in June I decided to decommit from them as I feel I did it a little early and I wanted to be patient. The relationship there is still good. I still talk to head coach Jeff Capel and (assistant coach) Jason Capel every other day and they still want me. I am excited to take a visit up there."
Tennessee: "Tennessee ... offered me a couple weeks back. I have been talking with (assistant coach) Justin Gainey and head coach Rick Barnes, building a relationship with them. With all the players they have had recently, I am definitely excited to get on campus and see what they have to offer and everything."
Georgetown: "I have been talking to them for a while now, head coach Patrick Ewing and (assistant coach) Akbar Waheed. The history of the program is great and there have been a lot of all-time great players who have come from there. I am definitely excited to see these coaches in person and see how everything goes up there."
*****
WHAT'S NEXT? 
"I am going to definitely use all my visits up; I don't have a time frame. I am taking my time with it all and don't want to rush the decision," Hood-Schifino said. "I have been talking to Oregon a lot recently. They haven't offered yet. I feel that after my play in July, when schools can get out and see me, a lot of schools will come on board.
"The main thing for me will be fit, I want to go somewhere where I can play right away and be able to play my game, with the ball in my hands. I want to be around winning people, in a winning program with a winning culture. I want to be able to go to college and win, learn and be able to do well and be pushed."
*****
RIVALS' REACTION 
Hood-Schifino is a strong-framed guard who plays with great pace in the half court. A true point guard, he has the size (6-foot-6 and 215 pounds) to play off the ball as well. Hood-Schifino can score in the mid range and is a high-level-to-elite rebounder from the guard position. He is also carving out a reputation as a shutdown perimeter defender. So much of his skill set leads to winning games.