Venice LB has offers, sets trips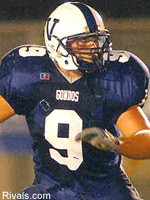 Venice, Calif., linebacker
Jimmy Miller
(6-1, 226, 4.65) has seen his stock skyrocket since his senior game tape has made the rounds. Miller racked up nine offers with many more pending. The talented linebacker has set up three visits.
Miller has offers from Alabama, Kentucky, Vanderbilt, Florida, Florida State, ECU, UAB and UCF.
Miller will visit Alabama on November 19th and he has a tentative trip scheduled to Florida for November 12th. His Florida visit is subject to change depending on Miller's game time that week.
The third visit that Miller will take will be to Mississippi State, but the date hasn't been set yet.
The Ohio State Buckeyes are close to offering Miller pending his transcripts. That should go well because Miller is a full qualifier.
Oddly enough the only consistent Pac-10 recruiting action is coming from Oregon and Washington. Both schools call Miller every week. The Huskies are talking visits with Miller.
In all there are 17 teams across the country consistently calling Miller and they too could be offering very soon. Other schools recruiting Miller are Arkansas, LSU, Boston College, Tulane, Virginia, Virginia Tech, Indiana, Penn State, Illinois, Notre Dame and Pitt.
Another thing that is admired about Miller is his durability. Miller is the first four-year starter in Venice's long history. If Venice makes it deep into the playoffs Miller would have started in over 50 varsity football games.
That is a lot of varsity starts and it speaks volumes of Miller's toughness and durability.
Venice currently stands at 3-2, but one of their victories was a forfeit. A team from San Francisco couldn't make the trip down to Southern California.
In four games, Miller has accounted for 76 tackles, 13 tackles for loss, five sacks, three forced fumbles and two fumble recoveries.
As a junior, Miller's 127 tackles was the third most by a Los Angeles City Section player in 2003. His performance earned him all-city and all-league honors as a junior.
Miller has the bloodlines, his brother quarterback Eddie Miller, signed with Louisville out of high school. He has since transferred out of Louisville and is playing ball at UCLA.