USC pulls off big win by landing four-star TE Walker Lyons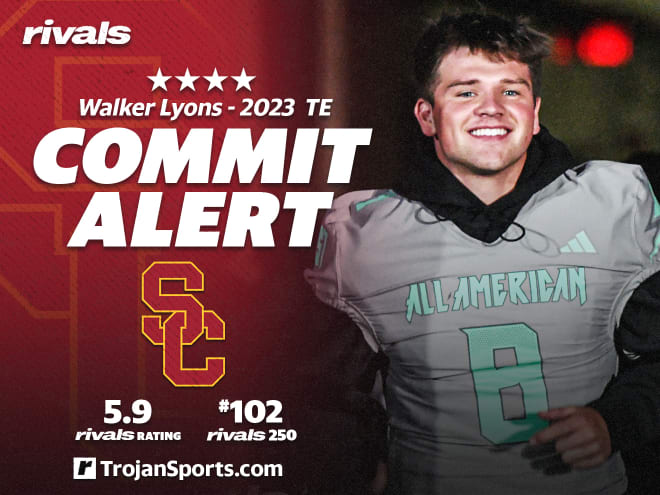 It looked like Walker Lyons was going to take his recruitment past National Signing Day.
The four-star tight end who had been committed to Stanford backed off that pledge in late November and is taking a Mormon mission so he seemed to be in no rush.
Georgia engaged with him and coach Kirby Smart, position coach Todd Hartley and others flew out to recruit him. There was significant chatter around Utah, a school Lyons visited and liked very much.
When Stanford hired Troy Taylor as its next coach, the Cardinal also re-emerged since Taylor used to coach at Lyons' high school and is known as a pass-happy coach.
All the while, USC stayed in the picture, loomed in the background and the Trojans were always a team that highly interested Lyons, one he talked about even dating back to the Rivals Camp in Los Angeles last spring.
And now he's committed.
The Folsom standout pledged to USC in a big surprise move Wednesday as it looked like he and five-star Duce Robinson could be playing the waiting game against each other to see which one would choose first.
Lyons pulled the trigger for USC and it gives the Trojans another injection of offensive ability because the four-star, who is coming off a knee injury, can stretch the field, has awesome hands and has proven over time that he's one of the best players at his position in the class.
That leaves the question of Robinson's destination. He has been basically down to USC and Georgia with the Bulldogs seemingly stretching their lead in recent weeks.
No decision is expected from the five-star on Wednesday but Lyons made his - and USC is better because of it.