Class of 2019 Rivals250 released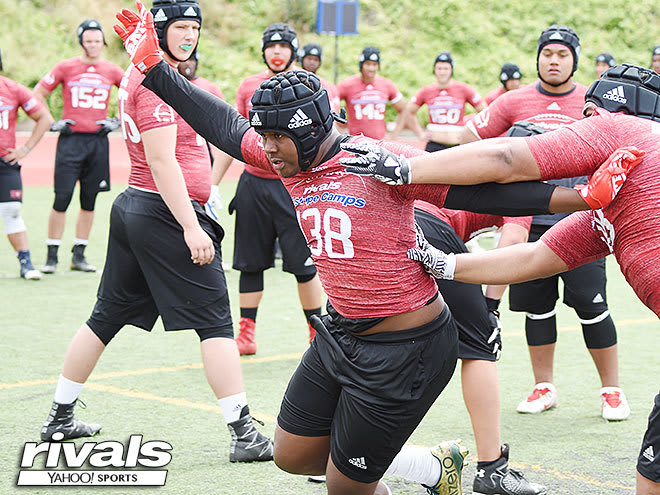 The first numerical Rivals100 for the class of 2019 was released on Monday and Santa Ana (Calif.) Mater Dei five-star quarterback JT Daniels was named the top player in the class.
Daniels was followed by Amite, La., defensive tackle Ishmael Sopsher, Norcross (Ga.) Greater Atlanta Christian defensive end Christopher Hinton, Ellenwood (Ga.) Cedar Grove wide receiver Jadon Haselwood and Westlake Village (Calif.) Oaks Christian defensive end Kayvon Thibodeaux to round out the top five.
Today, the complete Rivals250 for the class of 2019 is released and there promises to be a lot of movement up and down throughout these next two seasons.
Here is a look at prospects ranked Nos. 101-110 and then a smattering of other recruits who have the potential to crack the Rivals100 later on.
PROSPECTS RANKED NOS. 101-110
"Rhyan is a mean run blocker and a very capable pass blocker who has an incredibly stunning punch to defensive linemen. The 6-foot-6, 295-pound prospect slams defensive ends to the ground or moves them across the line to open up holes in the run game. In pass blocking, Rhyan shows off excellent feet and great hands to control any blitzes. Stanford, UCLA, Utah, USC, Oregon and many other schools are involved early." – Adam Gorney, Rivals.com National Recruiting Analyst
"Turnage is a big cornerback who plays physical and aggressive. He is one I really want to see play live this fall against a top wide receiver. His film is good, he has great size and he is a very intriguing cornerback, but he could also project as a safety on the next level. It is likely to turn into an in-state battle for Turnage, but outside of Ole Miss and Mississippi State, also on his radar are Alabama, Georgia and LSU." – Chad Simmons, Rivals.com Southeast Recruiting Analyst
"Johnson is a fantastic dual-threat quarterback who almost cannot be caught in the open field and regularly runs away from defenders on the second level. The four-star can sit in the pocket and deliver passes all over the field, too, and he's phenomenal at prolonging plays by dodging the blitz, moving around the pocket and then finding open receivers. Because he's such a great runner, defenders always seem on their heels and can never keep him contained. Oregon has to be considered the frontrunner since his father is on the coaching staff." - Gorney
"Rae is a huge target at 6-foot-5 and 238 pounds and he also has soft hands and solid speed where he can separate from linebackers trying to keep up with him in space. Even when Rae doesn't get a ton of separation he has the physical makeup to beat out linebackers or defensive backs hanging all over him. UCLA is a frontrunner because his dad played there but Georgia, Notre Dame, Oregon, Texas A&M, USC and many others are also involved." – Gorney
"This ranking is a little bit of a gamble because it's based solely off film but Alatini's highlight tape – even as a freshman – is fantastic and he completely dominates on the defensive line. The early BYU commit can play with his hand down but he's even better standing up and blitzing off the edge that way. He's so physical that he runs right through most blocks and he has excellent speed off the edge to track down players in the backfield." – Gorney
"For someone who plays at 260 pounds, Wright moves so well and has excellent speed off the edge. He can also move inside and use that speed off the snap to beat defensive tackles inside. What I like most about Wright is his ability to work off double teams and then violently go after the ball carrier. USC, Texas A&M and many others are involved early." – Gorney
"McClendon was pulling in top offers as a freshman in high school. Alabama was the first school to offer him and he has pulled in over 20 more since. He has had multiple family members play at Georgia, so the in-state Bulldogs are considered the team to beat. He has natural size with good feet and agility for an offensive lineman still with two years of high school left. He is likely a right tackle in college, but could be a good guard as well." – Simmons
"There are still a lot of unknowns when it comes to McCaffrey as a dual-threat quarterback since he didn't play that position last season because his brother, Dylan, was Valor Christian's QB. McCaffrey lined up in the slot, in the backfield, went in motion and got the ball in a variety of ways. He was a killer with the ball in his hands and could break a big play at any moment. Once he runs the offense regularly and we see his ability in that phase, his ranking should become much more clear. Michigan, Ohio State, UCLA, Washington and many others are involved early." - Gorney
"Faucheux already looks like a college player from a physical standpoint. He still has a ways to go in terms of skill development, but his youth provides ample time to achieve that. Schools from across the country have offered Faucheux and he most recently visited Notre Dame, Ohio State and Penn State." – Josh Helmholdt, Rivals.com Midwest Recruiting Analyst
"Originally from St. Louis, Coleman names no favorites but hopes to visit Nebraska and Florida in the near future. Mizzou and others will be players to land him as well. Coleman has solid size but his strengths are his acceleration and what have proven to be reliable hands." – Rob Cassidy, Rivals.com Southeast Recruiting Analyst
OTHER RIVALS250 PROSPECTS OF NOTE
"Louisiana is known for producing defensive backs and Bush appears to be the next elite prospect to come out of the state. He has good size and very good coverage skills, and I've been impressed more every time I've seen him over the past year. LSU, Florida and several others are among his early suitors." – Woody Wommack, Rivals.com Southeast Recruiting Analyst
"Cine dominates the competition with his range and physicality. His film is littered with big hits and his ability to cover from sideline-to-sideline is easy to see. Cine has the size and frame to be a major enforcer in the secondary for any college in the country. His most recent offers include Penn State, Wisconsin, Notre Dame, Oklahoma and many more." – Adam Friedman, Rivals.com Mid-Atlantic Recruiting Analyst
"Beason decommitted from Nebraska at the end of spring, but recently released a new top 12 that still includes the Huskers. He is a big skill player that can be special on offense, but physical enough to play some tough defense as well. Over the spring he showed how dangerous he is downfield as a receiver and how explosive he can be athletically. He's primed for a breakout season this year when he'll be the focal point of a state championship-caliber offense." – Nick Krueger, Rivals.com Texas Recruiting Analyst