Updated 2019 Rivals100: Big movers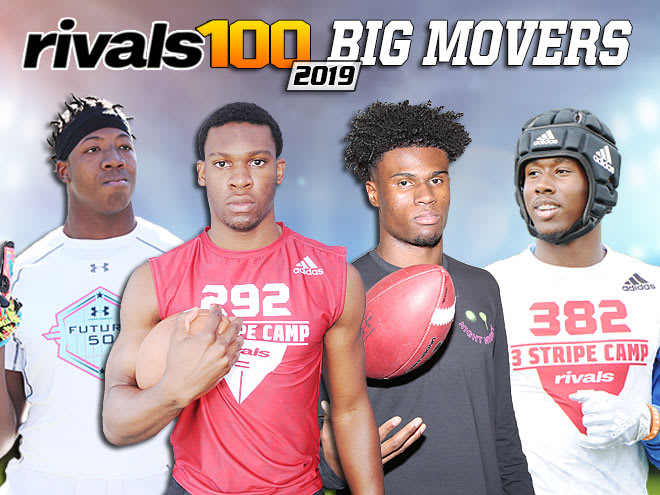 RELATED: Updated Class of 2019 Rivals100 | New No. 1, four new five-stars

With a lot of the focus on the new five-stars in the Rivals100, there were some massive changes within the ranking itself as well, including some major jumps by prospects getting into that five-star range. Here is a look at the big movers in our latest release.
A few prospects made nice jumps in the rankings and put themselves within range of five star status. A move up of 30 or more spots in the rankings release is considered a significant move forward and prospects like Georgia offensive lineman Wanya Morris, Texas defensive back Erick Young, Florida defensive end Khris Bogle and Louisiana defensive back Devin Bush are just a few that made serious moves.
Our team of Rivals.com regional analysts break down the big movers in our latest Rivals100.
Ranking change: Moved up 86 spots

"Morris was one of the most impressive performers at the Future 50 early in January and his stock has shot up. He was in the five-star discussion this cycle and he will have a real chance of earning that in the future. The one-time Florida State commit is being pursued by schools all over the country and he has really developed a lot over the past year." – Chad Simmons, Rivals.com Southeast Recruiting Analyst
Ranking change: Moved up 154 spots

"A talented defensive back out of the Houston-area, Young has the size and athleticism to be an elite prospect at any position in the secondary. His ball skills are so natural that he has dominated offseason camps as a wide receiver as well. Young has been one of the hottest names of the spring, picking up offers most recently from Auburn, USC, Texas Tech and others." – Nick Krueger, Rivals.com Texas Recruiting Analyst
Ranking change: Moved up 40 spots

"There are not enough people talking about Booth. He has the size, he is athletic, he has great instincts and he is one of the top corners in the country. Alabama, Clemson, Georgia and Ohio State are a handful of schools we know he is looking at seriously and he could make a decision at any time. Booth is physical and fluid with the length schools covet at this position." -- Simmons
Ranking change: Moved up 110 spots

"Bogle, who is considered a Miami lean, came within inches of winning MVP honors at Rivals Camp Series: Miami and was possibly the most complete defensive linemen at the event. His length is impressive and he has the frame to carry more muscle." – Rob Cassidy, Rivals.com Florida Recruiting Analyst
Ranking change: Moved up 108 spots

"Ladson's size is his calling card but he moves smoothly for a player of his size. He was once committed to Florida but recently backed off that pledge." -- Cassidy
Ranking change: Moved up 80 spots

"I've always been a big fan of Bush and he just seems to get better every time I see him. New Orleans is known for producing special defensive backs and Bush has a chance to be one of the next great ones to come from the city. LSU, Florida, Florida State and others are involved in his recruitment." – Woody Wommack, Rivals.com Southeast Recruiting Analyst
Ranking change: Moved up 106 spots

"Wilhoite put up huge numbers during his junior season and has attracted interest from programs from all over the country. He's carried his impressive play from the year over into the offseason and looks faster and more explosive than ever. Ohio State, Clemson, Tennessee and others are involved in his recruitment." -- Wommack
Ranking change: Moved up 57 spots

"Now at IMG Academy, Lucas is likely to take off some of the bad weight he currently carries. That said, he was beyond impressive at Rivals Camp Series: Miami, as he finished blocks extremely well on his way to capturing the event's MVP. Lucas seems high on the in-state schools, as Florida and Miami seem to be running out in front." -- Cassidy

Ranking change: Moved up 37 spots

"Pittman's brother, Michael, plays at USC but comparing the two would be wrong because they're different players. Mycah is smaller but much faster, shiftier and very difficult to deal with in space. Like his brother, Pittman has phenomenal hands and can make the tough catch plus he stretches the field with his speed and is a threat to make a big play at all times. Florida and Ohio State seem to be the early frontrunners but he remains open to everybody." – Adam Gorney, Rivals.com National Recruiting Analyst
Ranking change: Moved up 148 spots

"Bridges already has a reputation as one of the best jump-ball receivers in the country, even though he is not imposingly tall. He has a fantastic ability to catch deep balls and a flair for making dramatic grabs in big moments. He continues to grow as a player and plays with an edge that you don't typically see from players at the position. Bridges is committed to Oklahoma." – Krueger

Ranking change: Moved up 63 spots

"With nearly 30 offers already, it's no surprise top programs around the country want Tufono because he's a physical, thumping linebacker who can also use his speed to hit the hole and make tackles. He has tremendous instincts, he trusts his eyes and then goes after the ball carrier and comes with bad intentions. I love the way he plays linebacker and he's emerged as one of the best ones in this class. Washington, USC, Oregon and others seem to have an early edge." -- Gorney
Ranking change: Moved up 45 spots

"Ngata has some of the best junior film for a receiver nationally and he could continue to shoot up the rankings if he has an excellent offseason leading to his senior season. The four-star is a huge outside receiver who is physical and snatches the ball out of the air, leaving cornerbacks in the dust time and time again. At Folsom, he had 81 catches for 1,777 yards and 26 touchdowns this past season, so his dominance was pretty clear. Alabama is his latest offer with Notre Dame, Washington and many others all involved." -- Gorney
Rankng change: Moved up 34 spots

"McIntosh certainly looks the part and he showed that he's not all size this season. The massive running backs a threat in the passing game. He needs to get more efficient when it comes to breaking tackles and gaining tough yards, but he certainly has the size to allow it. McIntosh has had older brothers attend both Miami and Notre Dame." – Cassidy