Under Armour all-star roster breakdown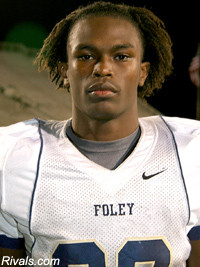 All of the high school football state champions have been crowned. All the pads have been thrown back in the equipment room to collect dust until spring. The players are now icing their wounds, getting back to work in the weight room or moving on to a different sport.
All except for the elite.
Some of the best high school football players in the country are still playing in all-star games, and one of those is taking place this week in Orlando, Fla.
Eighty of the best football prospects in the nation will be converging on the Disney Sports Complex to compete in the Under Armour All-Star Game. Prospects will be put through two-a-day practices for five days before facing off in the game on Saturday afternoon.
The Under Armour All-Star Game consists of two teams: Team Click-Clack, dressed in silver, and Team Undeniable – which will wear red. While the teams consist of highly touted prospects from around the country, there will be no regional bragging rights on the line. The teams were structured to create the best matchups, rather than by geographical lines.
All of these players have come to Orlando with high school careers that set them apart from crowd. This week they will have the opportunity to set themselves apart, not from the crowd, but from the elite.
[rl]