Uncommitted Georgia prospects in Rivals250: Where things stand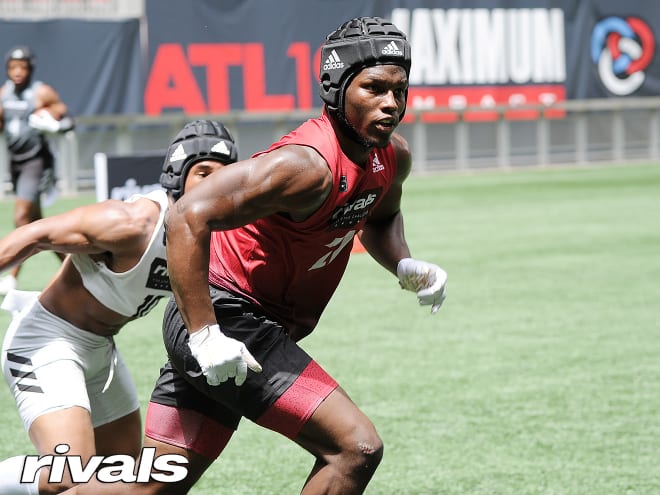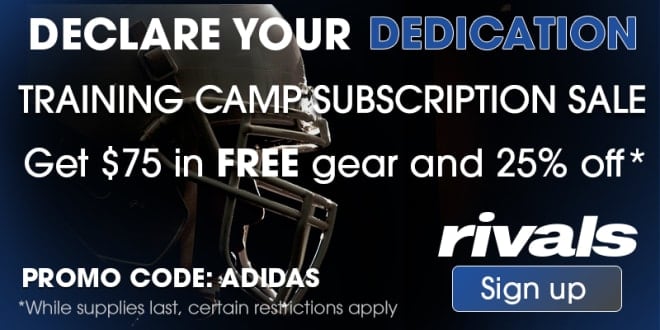 ***** 
Gilbert has narrowed his list to 10 schools, but come on, we know that over half those schools stand no chance of landing the No. 1 tight end in the country. Depending on the day, you hear that either Georgia or Tennessee has the edge.

What about Alabama and Clemson? He visited those two schools a week and a half ago. At one time, it looked like this would come down to Jeremy Pruitt vs. Kirby Smart, but you cannot rule out Nick Saban or Dabo Swinney. Gilbert has former teammates in Athens and Knoxville (Ramel Keyton at Tennessee and Azeez Ojulari at Georgia). His quarterback, Harrison Bailey, is committed to the Vols, too. Could that be a factor?

What it will likely come down to is which program can convince Gilbert that he will get the ball more in its offense. He looked to be Georgia's to lose just a few months ago, but Tennessee has created more buzz as of late, with some thinking the in-state school is now trailing at least one school, if not a couple. This one has gotten much more interesting lately.
***** 
Bigsby has taken official visits to Auburn, LSU and South Carolina and he is announcing his decision at 6:30 p.m. ET on Friday. It it those three and Georgia in this race. The Gamecocks were viewed as the team to beat for some time, and he has visited Columbia at least half a dozen times this year, but South Carolina has faded some. When Marshawn Lloyd committed to South Carolina it gave other schools an opportunity to make a move.

Auburn is very much in this, and the Tigers had him on campus July 27, so they received the final visit. Georgia was at one time thought to be the leader very early in his recruitment, so the Bulldogs cannot be ruled out. They appeared to have some real momentum just a few weeks ago.

Bigsby has been linked to at least three different schools this year, so when he commits later this week will his recruitment truly be over? Only time will tell. LSU looks to be fourth at this time, and it appears Auburn and Georgia are the top two.
***** 
Webb is one of the quietest recruits in the 2020 class. He just does not say too much, and he likes to keep much of his recruitment to himself. He did take his first official visit to LSU on June 22 and the Tigers have now hosted him twice. LSU appears to really have his attention.

Another Tigers program has been viewed as a favorite for many close to Webb - and that is Auburn. Clemson — yes, another team with a Tiger mascot - is in this, too. Webb visited Auburn in June, but the other part of the Iron Bowl, Alabama, has to viewed as a true contender in this race, too. Both Auburn and Alabama have tight numbers at linebacker, but we know each has a spot saved for Webb.

This looks to be an SEC battle right now, but Clemson has come back in this race after being out for a couple of months. Notre Dame and Oklahoma are two schools Webb says he will likely visit officially, so we can't sleep on the Irish and Sooners, either, but the schools closer to home are in much better position at this time.
***** 
Walker is focused on Alabama, Auburn, Florida and Georgia, but has one school pulled ahead? Walker does not say he has a leader, but the Gators seem to have grabbed the momentum over the summer. Georgia has turned it up a little after having Walker at camp in Athens in June, and Auburn and Alabama have always been there, too. Florida has recruited Walker on a different level, though, and that much he will admit. He was back at the Swamp again June 21, and again, he spent time with defensive line coach David Turner and got closer to those in Gainesville. Walker is set to visit Florida officially when the Gators play Auburn on Oct. 5.

Walker does not plan to commit until he takes his four official visits. This race is tight — very tight, and the official visits will play a big role. You hear more about Auburn, Florida and Georgia in this race, but you can never sleep on the Crimson Tide.
***** 
Powers is getting acclimated to a new school, Hapeville Charter, for his senior season, so his recruitment this summer has been pretty quiet. We know Arkansas, Nebraska and South Carolina offered officially Aug. 1, and those three are in line to receive official visits. At one time, Powers was eyeing a decision before the season, but now he has slowed the process down and will decide after the official visits. There is no true favorite, but the Gamecocks have turned it up and are recruiting him the hardest at this time.
***** 
Ojulari just announced that he will commit Aug. 16. It is down to Alabama, Auburn, Florida, Georgia, LSU and Tennessee for the four-star edge rusher. Ojulari has visited numerous schools since April, and he feels he is ready to make his decision.

Georgia is the home-state school that his has brother playing for them, but the Bulldogs are likely down his list some. This is expected to come down to the Tigers, with maybe the Vols also in the mix. Will it be Auburn or LSU? Both have recruited Ojulari like a true priority and the chatter behind the scenes has gone back and forth over the last month. He is very familiar with each coaching staff and campus, so this one still may not be over.
***** 
Edwards was back at Florida State the last weekend in July, and since that visit there has been a lot of buzz around the Seminoles. Has a decision been made? Is he close to pulling the trigger? Edwards is not one that dishes out a lot of information on his recruitment, so not many truly know exactly where he stands.

Auburn was at one time in play, but the Tigers have slowly dropped out of this race. Not many expect Georgia to be the landing spot either, so that leaves Florida State and Tennessee. The Vols have had success at Colquitt County, but Edwards has still not visited Knoxville, so that puts Florida State in the driver's seat.