UA Game Week: Who DT Rueben Bain and Peter Woods like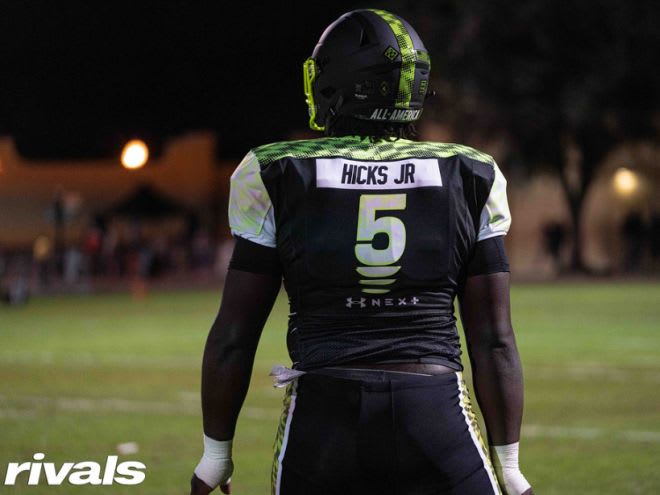 LAKE BUENA VISTA, Fla. – When all things should be equal being named an Under Armour All-America player, there are players still above the grade within the tremendous mix. Rueben Bain (Miami) for Team Speed and Peter Woods (Clemson) for Team Phantom have been unstoppable forces at defensive tackles in the practices leading up to Tuesday's game. The standouts share their thoughts on top offensive linemen they have competed against on their respective teams with other players that have caught their eye.
RUEBEN BAIN'S BREAKDOWN
Bain on the top Team Speed offensive linemen he has faced, "I would say No. 79 (Lucas Simmons), No. 65 (Iapani Laloulu), No. 58 (Miles McVey), and No. 73 (Olaus Alinen), those are the ones I went against all week.
Bain on Simmons:
"No. 79, he's good. He has long arms; he knows how to use those. But if you get around him and use your strength a little bit that's when you can get him."
Bain on McVey:
"He is a big body, so you have to use your speed on him. You always have to use your speed on him. That's a real big dude."
Bain on Laloulu:
"He has a good base. He has a good base, and he can move his feet but if you stutter step or do something to move him, that's when you can get out on the edge on him."
Bain on going against Team Speed's running backs, Richard Young, Dylan Edwards, and Ja'Vin Simpkins:
"I hit a couple of guys," Bain said. "I am not trying to hit too much, our season ended two weeks ago so there are still some bumps and bruises. I hit Richard Young. He is powerful, but I was able to control it. No. 23 (Dylan Edwards), he won the fastest man; he is fast. Once he gets outside of you, that is a wrap."
*****
PETER WOODS' BREAKDOWN
Woods on the top Team Phantom offensive linemen he has faced, "I haven't personally lost a rep in practice, but my (Thompson High School, Ala.) teammate Stanton Ramil has been probably been one of the most technically sound offensive linemen out here. All the guys are like that is crazy, and I'm like yeah I know, we go up against each other every day."
Woods on Zalance Heard:
"Heard has been one of the most impressive guys. I kind of knew he was good coming in here. He has the frame and the footwork. He can sit on a bullrush, that makes a great offensive lineman. I think those two tackles are the best two."
Woods on what he's hearing about Team Speed's offensive linemen:
"I haven't looked at the other team, but I heard Miles McVay was doing really well over there and Olaus Alinen. We'll see on Tuesday. During situations we got a good look at what they look like on the line."
Woods spoke about his Team Phantom defenders starting with defensive tackle David Hicks Jr.:
"DJ Hicks, that dude is a beast," Woods shared. "I feel like we are the perfect one-two punch. I tell him all the time, bro, imagine if we were playing on the same team. I remember our first day in team when we were doing live reps together, we were bumping our heads at the quarterback on every play. It is kind of cool having somebody who can do what you do on the field with you. Someone you can count on.
"We were in the hotel room; I was doing drills. I am used to doing drills with people who cannot do them as fast as me. He was doing them with me. We were just going through them – I was like wow, this kid is special. It is kind of refreshing to know there is someone out here working as hard as you are."
Woods on defensive end Ashton Porter:
"Ashton Porter, that kid is a dog," Woods said. "He's not the biggest kid, the strongest, or the tallest but he probably has the most heart of anybody out here. He cares. We are at an all-star game and he is writing notes in his note pad trying to get better, and he's trying to get extra work in. He cares for the guys out here, he's a real teammate and a real leader. That's one thing I like about Ashton."