U.S. Army AA Bowl adds Tajh Boyd at QB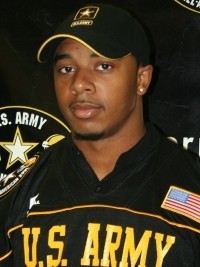 HAMPTON, Va.
- The Tidewater area of Virginia has been home to a lengthy list of All-American quarterbacks including Aaron Sparrow, Michael and Marcus Vick, Ronald Curry,
Tyrod Taylor
,
E.J. Manuel
and now
Tajh Boyd
from Phoebus High School.
The U.S. Army All-American Bowl officially recognized the Rivals100 triggerman at a ceremony at the school on Tuesday morning, just three days after the 6-foot-0, 208-pound field general led his team to a 37-13 victory in Virginia's Division Five state championship game held at Land Stadium on the campus of Virginia Tech.
"It's a great feeling," said Boyd moments before the press conference. "I've been wanting to play in this game since I was a little kid. It's a great honor to be selected as one of the participants to play in this game."
His trip here has been a long journey. After winning the state championship with Phoebus in 2006 as a sophomore, Boyd was a highly-regarded prospect, but not considered an elite-level player until a bit of a meteoric rise occurred during the summer before his senior season. It all culminated with him being named an Elite 11 quarterback and earning his way into the All-American game.
"There were a lot of kids ahead of me and I was on the back burner a little bit, but I just kept working hard over the summer and when I found out that I was selected for this game, it was just a real happy time for me and my family."
Boyd's father, Tim, is a military man and the Hampton Roads area of Virginia is a heavily militarized area with military bases stretching from Virginia Beach up through the Williamsburg area. That fact has added some extra importance to this game for Boyd.
"The people in the military just take on so much with their duties that you want to make sure that you respect them and honor what they do."
Boyd will likely head into the All-American weekend as one of the most highly sought-after uncommitted players in the nation after recently parting ways with the University of Tennessee when new head coach Lane Kiffin indicated that Boyd is not the best fit for their system at quarterback.
Having been an active recruiter on the combine circuit, does Boyd feel like the worm has turned and that other kids are going to be in his ear in San Antonio?
"Yes, most definitely, but I'm just looking forward to playing with guys like Bryce Brown, Dorian Bell, and Corey Brown. There is a whole bunch of great players who will be in this game."
So which schools are leading the hunt right now?
"I have four schools in mind - Ohio State, Oregon, Virginia and Boston College. I only have three visits left so I am going to sit down and talk with my parents about where to go, but I definitely know that Ohio State and Oregon will be two of my visits. I'm just at a point where I want to find the school that I am most comfortable with."
Boyd becomes the third Phoebus player in the past eight years to make the trip to San Antonio as he is preceded by current Houston Texan and former Virginia Tech Hokie Xavier Adibi and former Hokie running back Elan Lewis. Ranked as high as No. 2 in the country by Rivals.com, Phoebus has established themselves not only as one of the top programs in the state of Virginia but also among the elite in the nation.
"To have the season that we just had and then to be honored to be in this game, it's just great. We've got a great program over here and I'm just honored to contribute to the tradition."
Phoebus head coach Bill Dee expressed pride for his quarterback and of all his players, past and present. "Having kids named to this game is a testament to the kids and the hard work that they did and that they have done over the years. It's a nice honor because it's hard to get a kid in this game, so we feel fortunate. I think that a kid gets in because of the team effort, so it's a great honor for all of us."
[rl]