Two-sport star gets offer for football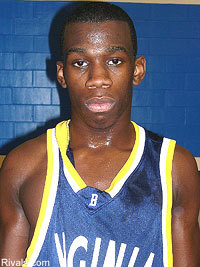 With an offer already on the table from Virginia for football, two-sport athlete
Stefan Welsh
from Newport News Woodside is proving to be one of the hottest recruits out of Virginia in 2006.
The 6-foot-2, 180-pound receiver not only has his first offer, but has received heavy interest from schools like Virginia Tech, Michigan, Michigan State, Nebraska, Connecticut and Boston College.
"He's a tremendous athlete who can do a lot of different things and is very elusive," Woodside High coach Danny Dodson said. "He's liable to take the ball for a touchdown every time he touches it; he's just that kind of player. He can make a lot happen and he gets double teamed a lot so that teams take him away."
So which football programs are Welsh interested in so far?
"He's interested in Virginia since they've offered," Dodson said. "I know he talks to them a lot. He's talked about Virginia Tech football and thinks a lot about that, and talks about North Carolina basketball too.
"He'll most likely be a wide receiver in football," Dodson said. "He throws the ball well too and he was my backup quarterback, but he's better off as a wide out. He did play some defensive back too and had five interceptions, but I still think he's most likely a receiver."
Not only one of the top receiver in the state of Virginia, Welsh is also a top basketball player.
"He's a heck of a basketball player. He spends a lot of time with the basketball team and they won the state championship last year and they'll probably do it again this year," Dodson said. "I'm almost certain he has gotten some Division-I basketball offers already."
Those schools which have offered for hoops include Arkansas, Clemson, Miami, NC State and Ohio State, among others.
So the question is, will he play football or basketball in college?
"I really don't know at this point," Dodson said. "I know he's starting to get a lot of interest for both, but we haven't talked about it yet."
This season Welsh helped Woodside to an 8-3 record as they lost in the first round of the playoffs.
"He had a great game," Dodson said. "10 catches for 180 yards in our loss."
Welsh recorded 40 catches for 550 yards and nine touchdowns receiving last season. He also posted two rushing touchdowns and one punt and one kickoff return for a touchdown. Welsh went on to be named first-team all-district receiver and return specialist.