Two-QB classes all about competition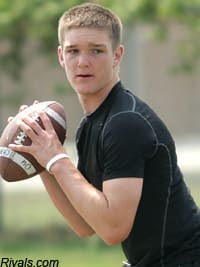 believed he had found his future home.
It apparently wasn't a deal-breaker.
"At first, it made me step back and think about it a little bit," McLeod said. "But after talking to the coaches, they were pretty reassuring. So in the end, it wasn't too much of a factor."
Plenty of other quarterback recruits across the country face similar dilemmas.
Eleven schools thus far have commitments from two quarterbacks, but that number should increase significantly as we move closer to National Signing Day. Three dozen programs signed multiple quarterbacks in 2012.
It's up to the individual quarterback to determine whether he welcomes that type of competition within his own class.
"Some won't want to go to a (school with a) two-quarterback class," Rivals.com national recruiting analyst Mike Farrell said. "Others will see it as advantageous, because they're on an even playing field with their competition and they feel confident enough in themselves that they can compete."
That's the way McLeod looked at it.
"I knew there would be competition wherever I went, so it didn't really matter that much to me," McLeod said. "The coaches assured me we'd both get an equal shot to compete against each other."
Alabama's situation is interesting because of the difference in ratings between the two quarterbacks. At most schools that have commitments from multiple quarterbacks, the two contenders have similar rankings. And they occasionally have different styles as well.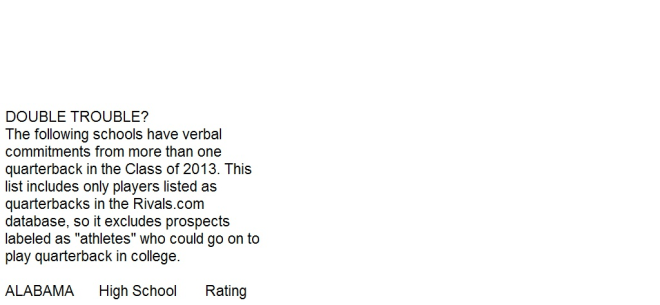 But there are a few exceptions.
"You're going to have to compete wherever you go," Kanoff said. "It's not really a huge thing. They don't have as many [quarterbacks] who are older - sophomores and juniors. So you're competing with someone in your grade as opposed to competing with someone who's two grades above you."
The only full-time scholarship quarterbacks currently on Vanderbilt's roster are Jordan Rodgers, Austyn Carta-Samuels and true freshman Patton Robinette. Rodgers will complete his college career this season and Carta-Samuels has just two years of eligibility remaining.
Kanoff can take comfort in the fact that history shows the lower-rated prospect in these situations occasionally ends up having the better career.
Kanoff, McLeod and Lowrie won't necessarily develop into the next Troy Smith, but each prospect understands the situation facing him and is going in with eyes wide open.
Lowrie lives 20 minutes from Boston College's campus and attends one or two home games per year. A little competition wasn't going to stop him from living out his dream of playing for his hometown school.
"That's what I wanted to do, play in front of friends and family," Lowrie said.
Lowrie committed a month before Boyle but noted that Boston College's coaches let him know they were planning to sign two quarterbacks in this recruiting class. They even called Lowrie shortly after Boyle committed to make sure he wouldn't get the news through the Internet or a reporter.
Most of the other quarterbacks in this situation said that schools kept them similarly informed. They have the same attitude as Kanoff and Lowrie. They'll have to compete with someone on the roster anyway, so what's the big deal if they aren't the only quarterback in their signing class?
Of course, it's easy to have that attitude now. Only time will tell whether they still feel that way if they fall behind their classmate on the depth chart.
"Every time you see two four-star quarterbacks [in one class], you sort of wait for one of them to emerge as the guy and the other to transfer," Farrell said. "It usually doesn't work out, but coaches don't care. They'll take two [quarterbacks] to get one. They don't have a problem with that because you only have one who starts anyway."
The Texas A&M situation could work itself well before the fall of 2013. Stewart committed to Texas A&M before the firing of Mike Sherman and is currently listed as a "soft verbal." Stewart also is an outstanding baseball prospect who could get selected early in next year's draft, forcing him to choose between the two sports.
If he ends up playing for the Aggies after all, he will display the same tenacity that helped make him such an outstanding two-sport athlete. That competitive zeal is shared by all the other quarterbacks facing this type of situation.
"We played on the same high school team, when I was a sophomore and he was a senior," Allen said of his brother. "He taught me a lot. It will be fun competing against him. We'll be fine with it. He'll teach me a lot. I've competed with him my whole life pretty much.''
Allen certainly knows a great deal about one of the quarterbacks he'll eventually be competing with at Arkansas, but he isn't nearly as familiar with Cogswell. Allen said he hasn't spoken to Cogswell yet, though he's looking forward to meeting him.
That isn't unusual. Nearly all the recruits interviewed for this story indicated they hadn't yet communicated with the other quarterback who has committed to their school.
After all, they'll have plenty of time to get to know each other once they get on campus.
"Just let the best quarterback play, I guess."

[rl]