Two Big Ten schools contact Battles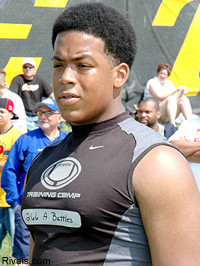 "There's a lot of confusion," Milwaukee (Wis.) Vincent lineman
Adrian Battles
said. "A lot of schools are in the picture.
"I'm looking at most of the same schools as before, but Michigan State and Ohio State contacted my coach last week. We've had calls from those two.
"I'm looking at those two, and Wisconsin, Indiana, Tennessee, Northern Illinois, Northwestern, and Michigan. Those are basically the ones.
"I don't have a favorite at all.
"Wisconsin talked about an official visit. I plan to probably take one there."
The 6-foot-2, 233 pound Battles helped lead Vincent to an 8-2 record this season. He made 79 tackles including 14 sacks from his defensive tackle position. Battles also had 57 "pancake" blocks playing center.
Battles is the No. 7 prospect in the state of Wisconsin in the Rivals.com player rankings.