Two advance to Kirks final 5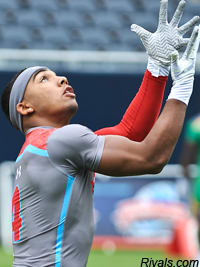 The four-star wide receiver intends to narrow his list of 33 scholarship offers to 10 sometime in June. From there, he intends to cut things down to five and take an official visit to the campus of each.
That's all fine and well. It's standard practice, really. Thing is, it seems two schools have already advanced to his last stage of Kirk's recruitment. Think of it as a couple of teams capturing byes into the final round.
Those visit destinations will be made public sooner than later. Kirk, who will graduate high school a semester early, is nothing if not motivated.
"I'm probably going to sit down and schedule that when spring ball is over," Kirk said. "For now, I've kind of put it on the back burner. That top 10 will come in June -- either early- or mid-June."
For now, though, Kirk's recruiting life is the same as it has been for years. A steady stream of college coaches parade through his high school daily. Some faces are familiar and some are new. Still, Kirk says this round of evaluations has a somewhat different feel.
"The good thing is that the offensive coordinators and positions coaches are coming through," he said. "Last spring, it was just the guys that recruit our area. "The contact with them is kind of limited right now, but you kind of get a feel for how they want to use you in the offense."
One of the nation's top wide receivers, Kirk is ranked as the No. 23 overall prospect in the class of 2015. As a junior, he caught 65 passes for 1,164 yards and 17 touchdowns. He also racked up 825 rushing yards on 77 carries.

[rl]