Tuesdays With Gorney: What to do with Quinn Ewers' ranking now?
In his weekly series, Rivals National Recruiting Director Adam Gorney offers his thoughts on recruiting topics and storylines that impact the national landscape.
Quinn Ewers is skipping his senior year of high school to enroll early at Ohio State, sending shockwaves through the recruiting world and forcing an interesting debate over the next couple days as to where he should now be ranked in the 2021 class.
Ewers' announcement on Monday came during a week in which Rivals already had scheduled rankings meetings, so what to do with Ewers will be an interesting debate.
My feeling is that Ewers is so special that he should take over the No. 1 spot from LSU defensive tackle Maason Smith, even though the early reports out of Baton Rouge are that Smith is already doing very well for the Tigers.
It's easy to say Ewers should immediately become No. 1 but there are a lot of considerations now that he's leaving early for Ohio State, which is already in the tail end of a quarterback competition to see who takes over for Justin Fields.
The word out of Columbus is that C.J. Stroud is probably ahead of Kyle McCord and Jack Miller for the starting job but now with Ohio State's first game against Minnesota on Sept. 2, does Ewers immediately enter that quarterback competition? It feels like it's a little too late. And that does not necessarily mean Ewers would still not be the top-rated prospect in the 2021 class.
The point is this: There are so many factors to now consider that were not present if Ewers just played his senior year of high school and matriculated to Ohio State normally.
In the end, though, trying to predict what happens with top college quarterbacks is next to impossible so leaning on Ewers' talent, how he projects as a player at the college level and with his NFL Draft status is the only way to go.
Ewers' arm talent is off the charts. His ability cannot be denied and at some point he has to see the field. How that works out is unknown, but Ewers could be the next big thing as a college quarterback. In my view, that means he deserves to be the No. 1 prospect when we readjust his ranking to the 2021 class.
WHO WON JULY?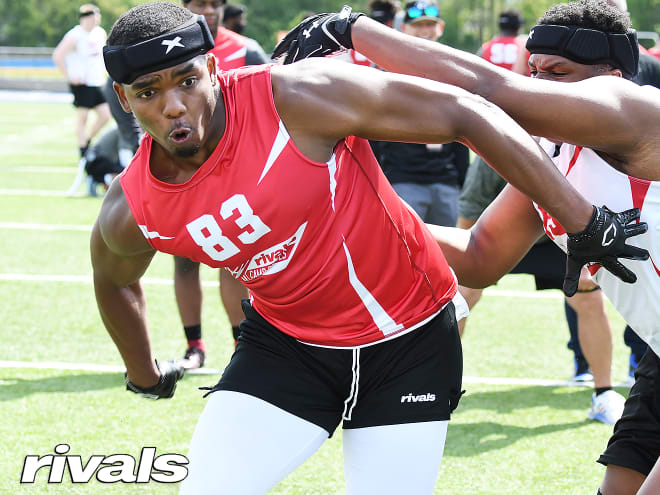 The summer fun of June and July are in the books and it's time to review which teams really capitalized the most on one of the busiest and most different summers in recruiting history.
June felt like National Signing Day on almost every day of the month. Many of the top prospects in both the 2022 and 2023 classes were crisscrossing the country every day seeing schools after being locked out because of the coronavirus pandemic.
By the time anyone could catch their breath in July, there were two super busy weekends of visits again culminating with these past few days where schools across the country held pool parties, barbecues and other unique events to pique the interest of top players.
Here are some thoughts on which teams won July in recruiting:
Twelve commitments came in the month of July for the Nittany Lions (as many as Clemson and Texas A&M have in total) as Penn State loaded up and now holds the No. 1 class in the country. Five-star defensive end Dani Dennis-Sutton picked the Lions over Georgia and others, a big win for coach James Franklin in the Mid-Atlantic. Four-star running backs Nicholas Singleton and Kaytron Allen could be the next big-time duo in Penn State's backfield.
*****
Defensive end Jeremiah Alexander has five-star potential. Tyler Booker was a big win because Florida and Georgia had the lead at different points in his recruitment. Dayne Shor is a little bit of a project but the word is coach Nick Saban wanted him and so that will be interesting to watch.
*****
Is there one player who's a program changer that came on board in July for the Sooners? Probably not. But recruiting is sometimes about the accumulation of talent in bunches and not just one superstar player. Four-star offensive linemen Jake Taylor and Jacob Sexton are tough, hard-nosed guys. Getting four-star DE Jason Moore out of Baltimore was huge.
*****
Only four players came on board in July but what a haul, especially in the secondary. Four-stars Jeadyn Lukus, Keon Sabb and Daylen Everette could be the future of the Tigers' defense. Four-star Jaren Kanak might not have a specific position right now but he's so dynamic and athletic, coach Dabo Swinney will figure it out.
*****
Five of Miami's eight total commitments came in July with defensive backs Chris Graves and Trequon Fegans standing out most. Three-star offensive lineman Falentha Carswell could be a huge sleeper and has the talent to be special with more seasoning.
*****
Running back Trevonte' Citizen could be the future in LSU's backfield. He certainly fits the mold. The Tigers also did very well in Florida with commitments from four-star tight end Mason Taylor and four-star LB DeMario Tolan.
*****
Former Texas A&M commit Isaiah Sategna is the speedy receiver the Ducks needed but Oregon did its best work loading up on the offensive line. Getting five-star Kelvin Banks to say yes over Texas, Texas A&M and others was a massive win for coach Mario Cristobal and his staff. Dave Iuli, Cameron Williams and Michael Wooten bring a lot of beef to Eugene as well.