Tuesdays with Gorney: Nelson commits to OU, busy weekend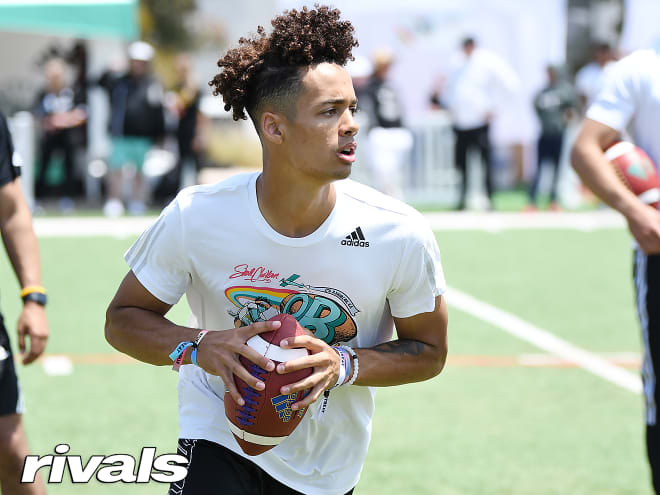 NELSON COMMITS TO OU  
Oklahoma is unequivocally and without question QBU as the Sooners had No. 1 NFL Draft picks and Heisman winners in Baker Mayfield and Kyler Murray, then had Alabama transfer Jalen Hurts and he became a second-round pick. Now Spencer Rattler is the next superstar.
The Sooners signed five-star Caleb Williams last recruiting cycle and locked up a pledge from 2023 five-star quarterback Malachi Nelson from Los Alamitos, Calif., on Sunday.
This might sound like hyperbole, but it's not. And I want to make it clear that others have far more accolades in their careers. But as a high school prospect, Nelson is the most prepared to have the most success out of all those players in Norman.
Whether it leads to Nelson one day winning the Heisman Trophy or being the No. 1 overall pick or winning a national championship for Oklahoma, who knows? Only time will tell, but at the same stage, I'd take Nelson over any of those other players.
Nelson is like a taller, smoother, better-armed Rattler as a high school junior. The ball pops so easily off his hand, he's a pro-style quarterback but he can move in the pocket, throw on the run and there could be some designed stuff for him because he's athletic.
And he's going to be a big-time recruiter. Nelson told me one of the reasons - other than knowing where he wanted to go - for picking the Sooners was because he wanted to start recruiting top players. Who wouldn't want to play with Nelson?
With Treyaun Webb and Nelson now committed for 2023, the future might be brighter than ever in Norman.
*****
  AND NOW WE WATCH ARCH MANNING
Nelson's decision will almost definitely not make fellow 2023 five-star quarterback Arch Manning rush his decision as there is a plan for the New Orleans Isidore Newman standout and a whole lot of schools left on the list.
But wouldn't it be so great for college football if Manning ended up at Texas? The Manning-Nelson debate in the 2023 rankings will be an interesting one and then to see them battle it out as bitter rivals at Texas and Oklahoma, to see those quarterbacks play for Lincoln Riley and Steve Sarkisian and to see them go after Big 12 championships?
That story writes itself.
*****
ANOTHER BUSY WEEKEND 
It was another busy summer weekend of commitments as prospects from around the country visited everywhere in June, and many have taken the last few weeks to whittle down their lists and make pledges. Here are a few that particularly stood out to me:
In a 10-day stretch, Penn State might have landed its backfield of the future. In-state four-star prospect Nicholas Singleton committed to the Nittany Lions on July 6 and that was an important one because he's a local prospect and Notre Dame and others made a major pitch and Singleton visited schools all across the country. But his relationships with the Penn State coaches plus his opportunity in the Lions' backfield won out.
That did not scare off four-star running back Kaytron Allen from Bradenton (Fla.) IMG Academy as he's a thicker inside runner. Singleton can also make things happen between the tackles but he's excellent on the edge where Allen is better inside and his vision is exquisite finding the running lane and then going.
Penn State now has commitments from two of the top eight running backs in the 2022 class, the only team that can boast that accomplishment.
*****
Alabama can flex its recruiting muscle whenever it wants - and it really flexed it in the recruitment of Tyler Booker. It looked like for months that the four-star offensive tackle from Bradenton (Fla.) IMG Academy was in a heated battle between Florida and Georgia. It looked like the Gators or the Bulldogs would get him in a battleground recruitment.
But Alabama was always sticking around, always hanging in the back and after a visit to Tuscaloosa, Booker was sold it was the right place. The rich get richer and while Florida and Georgia should be A-OK in recruiting, Booker would have been a big prize.
*****
Clemson struck the daily double at Bradenton (Fla.) IMG Academy over the weekend when four-star athlete Keon Sabb (who should play safety) and four-star cornerback Daylen Everette committed within hours of each other. They play high school ball in Florida, but Sabb is originally from New Jersey and Everette is from Virginia so the Tigers had success going into the Mid-Atlantic and the Northeast for these two latest commitments.
And both are fantastic. Sabb picked Clemson over Michigan, Penn State, Georgia and others and he's a phenomenal athlete. He gets his depth, can break on the ball, cover ground and then knock passes away. Everette is a physical corner who can also turn and run. Will a big senior season move him even higher in the rankings? It could happen.
*****
Maybe the biggest steal of the weekend was four-star outside linebacker/edge rusher Anto Saka to Northwestern, which won out over Penn State, USC and others. The Towson (Md.) Loyola Blakefield is all pedal-to-the-medal, attack, attack, attack, and he has the athleticism and physical ability to make it happen. Northwestern's defense hasn't seen many players of his caliber at the same stage and Saka could be a star for Pat Fitzgerald.