TTU was always No. 1 for Banks

Cash in on our latest promotion today and gain FREE ACCESS TO RedRaiderSports until kickoff! Catch all the latest news on Texas Tech football, basketball, recruiting and more!
Oh, and it doesn't stop there – with your subscription you'll be able to discuss these topics and more on our very active message board – Inside the Double T
Promo Code: WreckEm2020
This offer is valid through June 1, 2020. Users will have free access until September 1, 2020.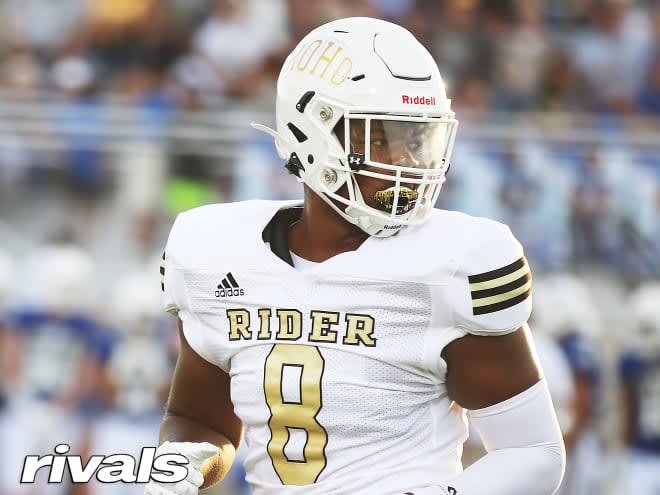 The Red Raider coaches landed commitment No. 6 for the 2021 class this afternoon when Wichita Falls Rider defensive end E'Maurion Banks announced his commitment to Texas Tech.
What you need to know:
...Banks announced his offer from Texas Tech on April 30th, 2019
...the Red Raiders were the first program to offer Banks

...the 6-foot-5, 260-pound prospect holds 16 total offers, including offers from Baylor, Texas, Oklahoma, Arkansas, TCU, Texas A&M, Nebraska, Colorado, Virginia Tech and others
TTU commitment - why now?: "With the whole quarantine, I just felt like it was the right time and it felt natural to make my commitment. Texas Tech has been my No. 1 school for a while now, I have been there 3-4 times and every time I visited it just felt like home."
Relationship with the TTU coaches: "I talk with Coach (Paul) Randolph and Coach (Matt) Wells a lot. I talk with a lot of the coaching staff, but probably with them the most. They both feel that I'm not even at my peak as a player yet, and they said I can come in and do a lot of damage for them on the defensive side.
"Coach Wells wants to keep Texas guys close to home, and we definitely talked about having my family close to see me play. I have three brothers and sisters, and it means a lot to stay closer to them."

TTU was always No. 1: "The reason I felt comfortable committing and the reason I said Texas Tech was always my No. 1 school is because the coaches recruited me very hard, harder than anyone else. They were my first offer, and they kept recruiting me hard, regardless of how many other offers I received.

Making his commitment: "It was earlier today, I called Coach Randolph and Coach Wells. They were both really excited, we talked for a while and then I waited for my graphic to get created before announcing it on social media. Both of the coaches were screaming man, I cannot say that I surprised them, but they were both very happy for me."
Overall recruitment: "I had other offers and really appreciate the other programs and coaches recruiting me, but like I said, Texas Tech has been my top school for a while. Being home with my family and waiting this current situation out just made me realize that I was ready to make my decision. I'm solid with Texas Tech and I'm going to shut down my recruitment."
Playing with his Rider teammates?: "I don't like to talk about other people's recruitment, but having Jed (Castles) committed certainly helps. It would be great to play with him and J-Rod (Jacob Rodriguez) at the college level."
Recruiting others now?: "Yes sir, I'm already recruiting other guys, there is a bunch of people I'm going after."
Relationship with other 2021 commits?: "No, not really outside of Jed. We are going to start talking though, he mentioned they have a text group and I'm going to get with them."
Nickname "Dooda": "My Mom has a deal, she gives all of us weird nicknames and I guess mine just stuck over the years."
Currently rated a 5.6 three-star prospect, Banks is listed as the No. 35 overall strong-side defensive end prospect in the nation and the No. 62 overall prospect on the Rivals Texas Top 145 for the 2021 class.

He finished with 95 tackles, 27 tackles for loss, 14 sacks, 30 quarterback pressures and two (2) pass break ups - earning First Team All-District honors as a junior.