Transfer Tuesday: Five new additions to the portal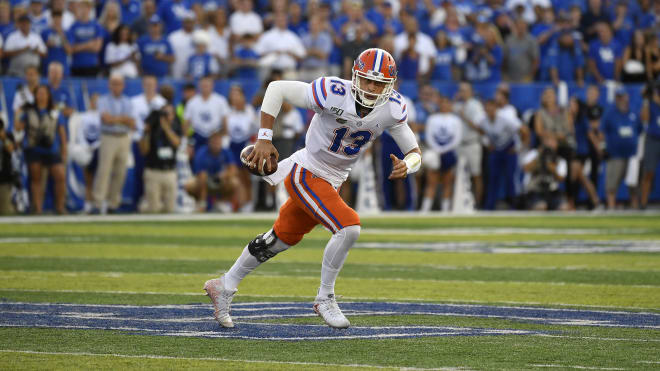 The introduction of the transfer portal last year has changed the way players move across college football programs. With that in mind, Rivals.com will breakdown a transfer related topic each week.
With the 2019 regular season now wrapped up, names from all over the country are pouring into the portal. This week, we will look at some of the most notable names to throw their hats into the transfer mix.
QB JAKE BENTLEY
As a recruit: Bentley was initially a member of the class of 2017, but reclassified to the class of 2016 shortly after committing to South Carolina.
At South Carolina: Despite being a late arrival in Columbia while finishing up his high school academic work, Bentley quickly turned heads with the Gamecocks. After the team sputtered out of the gates in the 2016 season, Bentley was inserted into the lineup and quickly impressed. He finished his freshman season with 1,420 yards and nine touchdowns and four interceptions.

Over the next two seasons, Bentley would have plenty of highs and lows, including leading the Gamecocks to a 9-4 record as a sophomore. He dealt with injuries and regressed some as a junior, but came into 2019 looking to lead the Gamecocks back to contention in the SEC East. That goal ended quickly as Bentley suffered a season-ending injury on the last play of the school's season-opening loss to North Carolina.

Bentley entered the portal on Monday and as a grad transfer will be eligible immediately next season and will have one season left to play.
Potential landing spots: Duke. Bentley will have plenty of options but Duke stands out as a program with a need for a quarterback. Pairing with David Cutcliffe could also help Bentley's draft stock.
TE GRAYSON BOOMER
As a recruit: Boomer was the first player in the class of 2019 to commit to Oklahoma State, choosing the Cowboys over Nebraska, Michigan and several other offers during the fall of his junior season.
At Oklahoma State: Boomer's career never got off the ground as he suffered a torn ACL during the preseason and missed the entire 2019 season. Rather than return and compete for playing time, Boomer told the Tulsa World that he wanted to find a better fit both on and off the field. He will have at least three years of eligibility remaining at his next school.
Potential landing spots: Tulsa. Boomer's older brother is at Tulsa so a reunion between the two might make the most sense.
QB FELEIPE FRANKS
As a recruit: An early target for several programs, Franks surprised some when he committed to LSU as an underclassman. But as his recruitment went along and things changed and he made a late flip to Florida in 2015.
At Florida: Franks redshirted his first year on campus and won the job heading into the 2017 season. But his first start got off on the wrong foot against Michigan and he was pulled after a half of play. He moved in and out of the lineup for Florida and finished the year with 1,438 yards, nine touchdowns and eight interceptions.

Franks got a fresh start under coach Dan Mullen in 2018 and made the most of his opportunities, leading the team to a 10-3 record and throwing for 2,457 yards with 24 touchdowns and just six interceptions. He came into 2019 looking to improve even more, but his season was cut short after just three games when he suffered a season-ending ankle injury. After being replaced by Kyle Trask, who played well in his absence, Franks announced this week he would enter the transfer portal and weigh his NFL options. Franks is a grad transfer with one season of eligibility remaining.
Potential landing spots: Florida State, Utah. Franks could really end up anywhere but given his Florida roots, landing with the rival Seminoles isn't out of the question, depending on who the school hires. Franks should be an attractive options for several programs.
OL RYAN JOHNSON
As a recruit: Johnson committed to Tennessee during the summer prior to his junior year, choosing the Vols over Vanderbilt, Florida, Oklahoma and several others.
At Tennessee: A tackle in high school, Johnson bounced around quite a bit in his career at Tennessee, playing all across the offensive line. He played extensively for the Vols in 2018, logging 711 total snaps according to Pro Football Focus. He returned to more of a reserve role in 2019, playing just 176 snaps over nine appearances. Johnson announced his plans to grad transfer on Monday and will have one season of eligibility at his next school.
Potential landing spots: North Carolina, Vanderbilt. Because of his versatility, Johnson should have plenty of suitors. His former assistant and recruiter Tommy Thigpen is now at North Carolina and while going from Tennessee to Vanderbilt is unlikely, the Commodores do need bodies on the offensive line and Johnson is a Nashville native.
WR JUSTIN SHORTER
As a recruit: Shorter didn't wait long to commit to Penn State after becoming a national level recruit, pledging to the Nittany Lions in the summer prior to his junior year.
At Penn State: During his first year at Penn State, Shorter took advantage of the four-game redshirt rule and hauled in three passes for 20 yards in his first season. He came 2019 as a starter, but he didn't put up the type of consistent numbers expected for a player of his pedigree. The most passes he caught in a game was three against Ohio State, and he finished the year 12 catches for 137 yards. He entered the portal late last week and will have at least two years of eligibility remaining at his next school.
Potential landing spots: Rutgers, Michigan. The hiring of Greg Schiano at Rutgers has many hopeful that the New Jersey native will come back home and be a part of the Scarlet Knights rebuild. Michigan could also be a factor, given Shorter's relationship with offensive coordinator Josh Gattis.