Transfer Tuesday: Five biggest recent transfer portal entries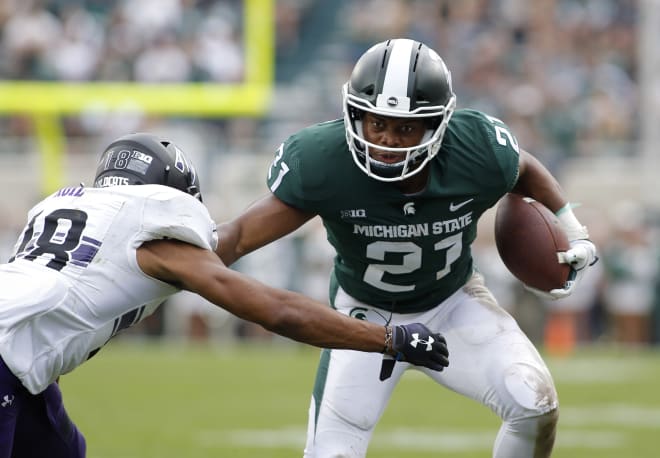 The introduction of the transfer portal last year has changed the way players move across college football programs. With that in mind, Rivals.com will breakdown a transfer related topic each week.
The college football season continues to roll on, and more players continue to flow into the transfer portal. Today, we focus on the five most notable entries over the past week.
CAM CHAMBERS
As a recruit: One of the top players in the country in the class of 2016, Chambers made a pledge to Michigan State prior to the start of his junior year of high school and never wavered despite interest from schools all over the country.
At Michigan State: Chambers came into Michigan State with sky-high expectations but never really lived up to the hype. His best season came in 2018, when he caught 19 passes for 264 yards. Most expected those numbers would increase in 2019, but Chambers barely saw the field and logged just 17 total snaps according to Pro Football Focus. Chambers has already graduated and will have immediate eligibility and at least one year remaining at his next school.
Potential landing spots: Rutgers
BRIAN HIGHTOWER
As a recruit: Hightower began high school in California before moving to IMG Academy later in his career. His move to Florida also gave him a chance to bond with the schools in the Sunshine State and he committed to Miami during the spring of his junior year.
At Miami: Hightower saw the field plenty as a freshman in 2018, including catching a touchdown in his first career game. But that was pretty much the highlight for Hightower as he failed to produce much while playing mostly a rotation role. In seven games in 2019, Hightower had eight catches for 88 yards. He will have two years of eligibility remaining at his next school.
ROBERT PORCHER
As a recruit: A Florida native and the son of former NFL great Robert Porcher, Sr., Procher committed to Nebraska during the summer prior to his senior year. But that commit didn't last and he eventually re-opened his commitment during the fall before committing to and signing with Virginia Tech.
At Virginia Tech: Porcher didn't play his first year on campus but found a nice role in 2017, playing in seven games and recording 13 tackles and one sack. He came in 2019 looking to build on that success, but instead fell down the depth chart and played in only two games. While he did have one sack, Porcher will have at least two years of eligibility remaining at his next school.
JAVONNE SHEPHERD
As a recruit: Shepherd committed to Texas prior to his senior season but became a popular name late in the recruiting process. Shepherd was wooed by Alabama, Georgia, Texas and Texas A&M following the Early Signing Period and took official visits to all four schools before electing to stick with the Horns and signing in February.
At Texas: Shepherd was always expected to redshirt in his first year on campus in Austin and was on schedule to do so before electing to enter the portal this week. He will have at least three years of eligibility remaining at his next school.
DILLON STERLING-COLE
As a recruit: A Texas native, Sterling-Cole committing to Arizona State during the summer prior to his senior year. He chose the Sun Devils over Florida, Mississippi State, Texas A&M and others.
As a Sun Devil: The peak of Sterling-Cole's career came as a true freshman, when he saw the field after a rash of injuries at the position. He started for the Sun Devils against Oregon, at the time becoming just the fifth true freshman QB in program history to start a game. He finished his freshman year with 388 passing yards. After redshirting in 2017, he served as Manny Wilkins' backup in 2018 and looked to be in position to win the starting job this season. But he was beat out by true freshman Jayden Daniels. After falling down the depth chart and playing primarily special teams, Sterling-Cole entered the portal this week. He will have at least one year of eligibility left at his next school.
Potential landing spots: Texas State, UTSA