Transfer Tracker: Washington four-star duo enters portal
Mark Pszonak contributed to this report.
The transfer portal never stops grinding. A pair of 2018 four-star wide receivers, Marquis Spiker and Austin Osborne, have officially become available, as Washington reorganizes their receiving corps.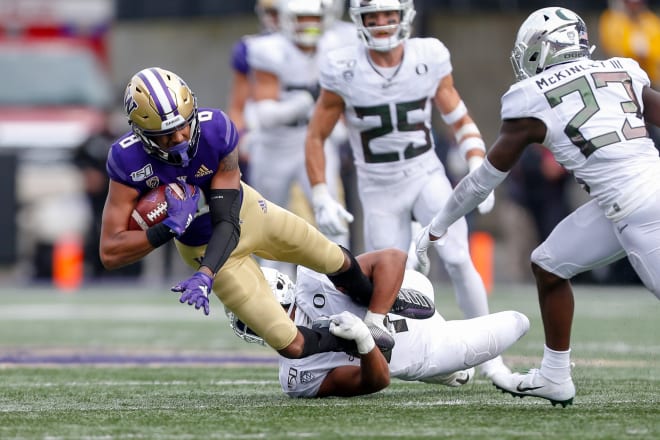 Recruiting: Spiker committed to Washington over USC, UCLA, Oregon and Michigan in mid-March. A junior season visit to Seattle firmly placed the Huskies into the lead, which they never relinquished. Osborne was long-considered a Washington lean when he committed to the Huskies during an unofficial visit during the winter after his junior season.
At Washington: Spiker totaled three receptions for 67 yards while Osborne had one reception in five career games.
Potential landing spots: Spiker has received early interest from a wide variety of programs, with Utah, Houston and Boise State being a few of the FBS programs. Osborne's early interest is mostly from FCS programs, with Hawaii and Western Kentucky being two FBS schools to keep an eye on.
Farrell's Take: I thought Spiker would be an absolute star at Washington with his size, catch radius and ball skills. He was almost a five star so it's puzzling things haven't worked out. He's a Power Five talent for sure but might step down to Group of Five. Osborne was a Rivals250 kid in the same class with more slot skills than Spiker and he's also a talent so I would expect Group of Five interest at the very least.
Impact Meters: Spiker 7.5 out of 10, Osborne 7.1 out of 10
IMPACT METER
The Transfer Portal continues to change the way college football programs recruit and manage their rosters so we here at Rivals.com continue to evolve our coverage. Each time a player of note enters the portal, we will examine their potential impact on the college football landscape and assign an impact rating, both when they enter the portal and when they choose a destination. The scale is from 1-10 and the description below explains the scoring scale.
1.1-4.0 — Not a big impact expected, likely a non-starter and down the bench depth player.
4.1- 6.0 — A solid impact can be expected in the right scenario and has the potential to battle for a starting job.
6.1-9.0. — A high impact player who won't change a program but will certainly be a very good contributor and starter.
9.1- 9.9 — A very high impact player who should start the moment he steps on the field and will change the outlook of a program immediately.
10 — A franchise transfer who has a chance to be an All American and one of the elite players in college football.