Transfer Tracker: Villanova WR Changa Hodge headed to Virginia Tech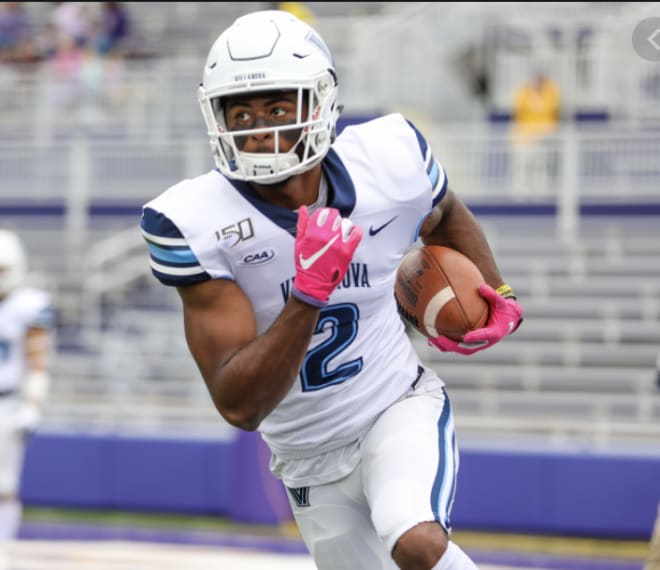 The Transfer Portal has changed the landscape of college football. So at Rivals we bring you the Transfer Tracker, where we analyze players entering the portal and rate them on what kind of impact they could make at their new home.
Next up in the tracker: Villanova transfer Changa Hodge, who is now headed to Virginia Tech.
AS A RECRUIT
A member of the Class of 2016, Hodge didn't even have a Rivals.com profile or a ranking and landed at FCS program VIllanova.
AT VILLANOVA
After being mostly a reserve for his first three years at Villanova, Hodge had a break out season in 2019, catching 65 passes for 1,118 yards and 13 touchdowns. He was expected to be one of the stars of FCS, but with his season pushed back to the spring he quickly entered the portal and landed at Virginia Tech all in the same week.
FARRELL'S TAKE
"Hodge wasn't on our radar at all coming out of high school but he's been a big, physical impact guy who can get downfield and also block at the FCS level. Virginia Tech is getting a sure handed kid who is dangerous in the red zone and he will add depth immediately." -- National Recruiting Director Mike Farrell
Impact Rating: 6.4 out of 10
IMPACT METER
The Transfer Portal continues to change the way college football programs recruit and mange their rosters so we here at Rivals.com continue to evolve our coverage. Each time a player of note enters the portal, we will examine their potential impact on the college football landscape and assign an impact rating, both when they enter the portal and when they choose a destination. The scale is from 1-10 and the description below explains the scoring scale.
1.1-4.0 — Not a big impact expected, likely a non-starter and down the bench depth player.
4.1- 6.0 — A solid impact can be expected in the right scenario and has the potential to battle for a starting job.
6.1-9.0. — A high impact player who won't change a program but will certainly be a very good contributor and starter.
9.1- 9.9 — A very high impact player who should start the moment he steps on the field and will change the outlook of a program immediately.
10 — A franchise transfer who has a chance to be an All American and one of the elite players in college football.