Transfer Tracker: UCLA TE Jordan Wilson commits to Florida State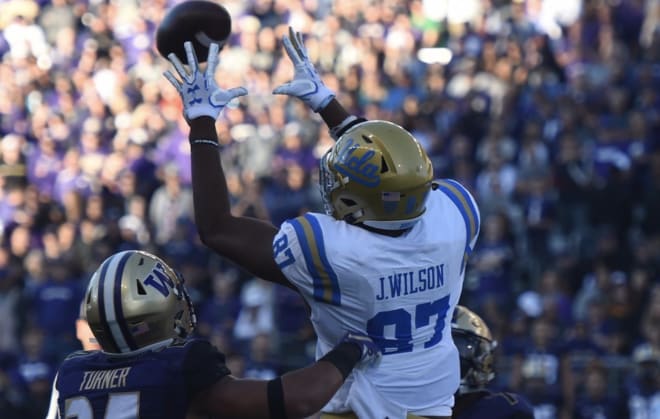 THE LATEST
Florida State's success on the transfer market continued over the weekend as as the Seminoles landed a commitment from UCLA graduate transfer Jordan Wilson. The move comes after Wilson announced plans to transfer back in January, and has been linked to the Seminoles quite some time.
Wilson, who has one season of eligibility remaining, was mostly a backup during his time at UCLA, catching 25 passes for 244 yards and two touchdowns.
Wilson provides help at a position of need, especially considering that the Seminoles lost a tight end transfer of their own, Tre McKitty, to Georgia.
Wilson is ranked No. 7 in the current Rivals.com Tight End Transfer Rankings.
TRANSFER RANKINGS: Quarterback | Running back
AS A RECRUIT
Wilson was recruited on both sides of the ball, as a defensive end and as a tight end. He chose to stick to offense and landed at UCLA during the summer prior to his senior year.
AT UCLA
Wilson redshirted his first year at UCLA before settling into a reserve role behind a pair of future NFL Draft picks at tight end. Wilson played in 12 games, including six starts, in 2017. He then played in 10 games in 2018 and 12 more in 2019. For his UCLA career, he finished with 25 catches for 244 yards and two touchdown. Wilson has one season of eligibility remaining to use in 2020.
FARRELL'S TAKE
"Wilson is a solid pick up for Florida State, a kid with length and athleticism who has shown he can be a reliable target at the Power Five level. I don't expect him to be a game changer but he should move the chains when needed here and there." National Recruiting Director Mike Farrell
Impact Rating: 5.6 out of 10
IMPACT METER
The Transfer Portal continues to change the way college football programs recruit and mange their rosters so we here at Rivals.com continue to evolve our coverage. Each time a player of note enters the portal, we will examine their potential impact on the college football landscape and assign an impact rating, both when they enter the portal and when they choose a destination. The scale is from 1-10 and the description below explains the scoring scale.
1.1-4.0 — Not a big impact expected, likely a non-starter and down the bench depth player.
4.1- 6.0 — A solid impact can be expected in the right scenario and has the potential to battle for a starting job.
6.1-9.0. — A high impact player who won't change a program but will certainly be a very good contributor and starter.
9.1- 9.9 — A very high impact player who should start the moment he steps on the field and will change the outlook of a program immediately.
10 — A franchise transfer who has a chance to be an All American and one of the elite players in college football.