Transfer Tracker: Texas OL Denzel Okafor enters portal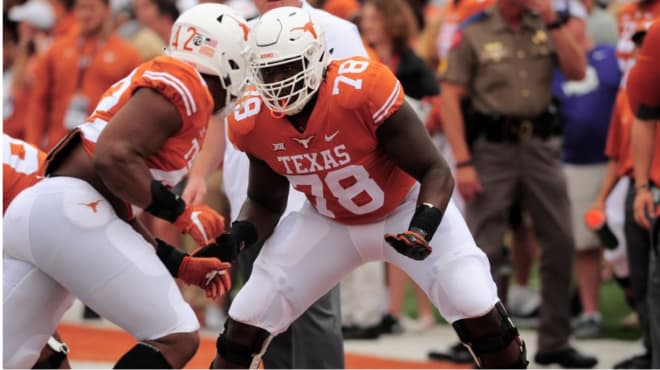 The Transfer Portal has changed the landscape of college football. So at Rivals we bring you the Transfer Tracker, where we analyze players entering the portal and rate them on what kind of impact they could make at their new home.
Next up in the tracker: Texas offensive lineman Denzel Okafor.

AS A RECRUIT
Okafor's stock rose as his high school career moved along and by the time his senior season rolled around he had Texas, Texas A&M and Arkansas battling to land his commitment. He chose the Longhorns toward the end of his senior season.

AT TEXAS
After playing as mostly a reserve in 2016, Okafor saw his most significant playing time in 2017, when he played 418 snaps for the Longhorns, most of which came at left tackle. After missing the 2018 season, Okafor was special teams stalwart in 2019. He also saw time at right tackle for the 'Horns last season, starting his first game in two years against Iowa State late in the season. Rather than return for his fifth and final season in Austin, Okafor elected to enter the portal this week.

POTENTIAL LANDING SPOTS
With as much experience as Okafor has as well as his ability to play multiple positions across the offensive line, it wouldn't be surprising to see him become a very popular name on the transfer market. It's tough to see an obvious match at this point but he should have plenty of Power Five opportunities.

FARRELL'S TAKE
"Okafor was a Rivals250 prospect out of high school with good size and known as a downhill road grader. He wasn't a superior athlete as an offensive lineman, but he had the potential to play guard or right tackle. At Texas, he's been solid in his few starts and has been a contributor here and there, but he's not a plug-and-play guy and he'll need to find the right fit." – National Recruiting Director Mike Farrell
Impact Rating: 4.6 out of 10
IMPACT METER
The Transfer Portal continues to change the way college football programs recruit and mange their rosters so we here at Rivals.com continue to evolve our coverage. Each time a player of note enters the portal, we will examine their potential impact on the college football landscape and assign an impact rating, both when they enter the portal and when they choose a destination. The scale is from 1-10 and the description below explains the scoring scale.
1.1-4.0 — Not a big impact expected, likely a non-starter and down the bench depth player.
4.1- 6.0 — A solid impact can be expected in the right scenario and has the potential to battle for a starting job.
6.1-9.0. — A high impact player who won't change a program but will certainly be a very good contributor and starter.
9.1- 9.9 — A very high impact player who should start the moment he steps on the field and will change the outlook of a program immediately.
10 — A franchise transfer who has a chance to be an All American and one of the elite players in college football.