Transfer Tracker: Texas A&M DE Tyree Wilson enters the portal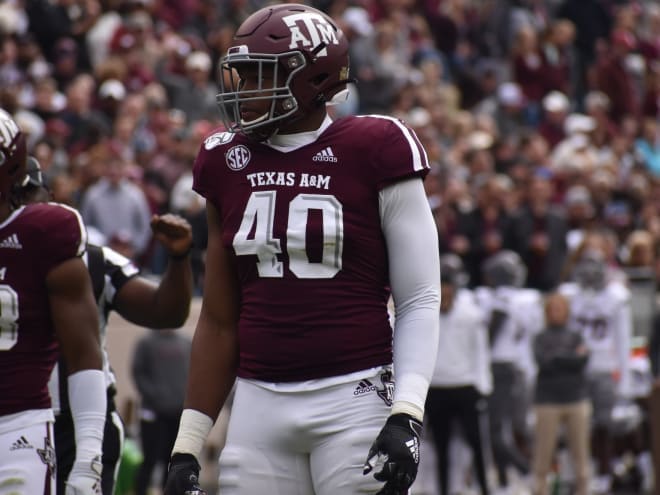 The Transfer Portal has changed the landscape of college football. So at Rivals we introduce to you the Transfer Tracker, where we analyze players entering the portal and rate them on what kind of impact they could make at their new home.
Next up in the tracker: Texas A&M defensive end Tyree Wilson.
AS A RECRUIT
Wilson committed to Texas A&M in the summer prior to his senior year, choosing the Aggies over Nebraska, Baylor and several others. Arkansas made a late run at him and even hosted him for an official visit but Wilson elected to stick with his original commitment.
AT TEXAS A&M
Wilson redshirted his first year on campus in 2018 and worked his way into the lineup as a redshirt freshman in 2019. His playing time increased as the year went along and crested at 45 snaps in the Ole Miss game, which was also his highest-graded game of the year according to Pro Football Focus. He finished the year with seven total tackles and two sacks as well as six quarterback pressures in 132 total snaps. With the Aggies loading up on pass rushers, Wilson announced his plans to enter the portal this week. He will have at least two years of eligibility remaining at his next school.
POTENTIAL LANDING SPOTS
With former Arkansas assistant Jeff Traylor now the head coach at Texas-San Antonio a match there seems like it could be a very realistic possibility. However, with Wilson's ability as a pass-rusher there could be several schools lining up to try to land him.
FARRELL'S TAKE
"I liked Wilson out of high school as a high energy pass rusher and I think he showed some positive signs in his only year on the field with the Aggies. He has two years left and he can get after the passer at a Power Five level so I think he can make a nice impact wherever he lands.. He might end up Group of Five or lower but I think his ability is above that." National Recruiting Director Mike Farrell
Impact Rating: 6.3 out of 10
IMPACT METER
The Transfer Portal continues to change the way college football programs recruit and mange their rosters so we here at Rivals.com continue to evolve our coverage. Each time a player of note enters the portal, we will examine their potential impact on the college football landscape and assign an impact rating, both when they enter the portal and when they choose a destination. The scale is from 1-10 and the description below explains the scoring scale.
1.1-4.0 — Not a big impact expected, likely a non-starter and down the bench depth player.
4.1- 6.0 — A solid impact can be expected in the right scenario and has the potential to battle for a starting job.
6.1-9.0. — A high impact player who won't change a program but will certainly be a very good contributor and starter.
9.1- 9.9 — A very high impact player who should start the moment he steps on the field and will change the outlook of a program immediately.
10 — A franchise transfer who has a chance to be an All American and one of the elite players in college football.