Transfer Tracker: Minnesota's Seth Green enters portal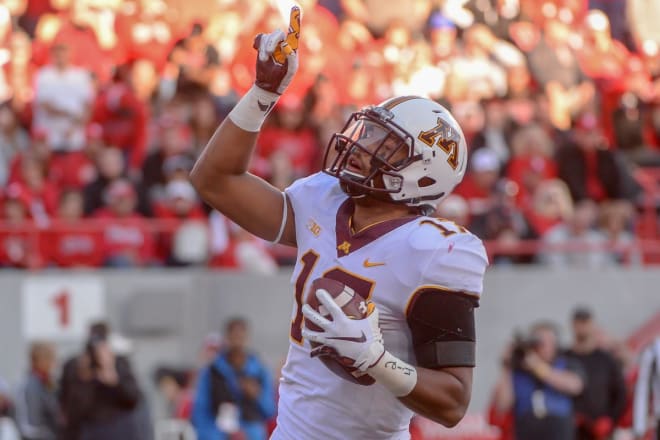 Mark Pszonak contributed to this report.
The transfer portal never stops and former Minnesota Gopher Seth Green is an intriguing prospect. Here's a breakdown as he has entered the transfer portal:
Recruiting: Green initially committed to Oregon but then flipped to Minnesota in December after coach Scott Frost departed Eugene.
With the Gophers: In 33 games with the Gophers, Green rushed for 388 yards and 15 touchdowns, completed six of seven passes for three touchdowns and one interception, and had six receptions for 83 yards.
Potential landing spots: Oklahoma State (twin brothers, Blaine and Bryson, are part of Cowboys' 2021 class), Michigan State, North Carolina State, Pittsburgh and others have been mentioned.
Farrell's Take: Green is clearly an interesting prospect who has played quarterback and wide receiver and can run from the QB position. He could also be a tight end and with his versatility he will get Power Five looks. He likely lands someplace solid.
Impact Rating: 5.7 out of 10
IMPACT METER
The Transfer Portal continues to change the way college football programs recruit and mange their rosters so we here at Rivals.com continue to evolve our coverage. Each time a player of note enters the portal, we will examine their potential impact on the college football landscape and assign an impact rating, both when they enter the portal and when they choose a destination. The scale is from 1-10 and the description below explains the scoring scale.
1.1-4.0 — Not a big impact expected, likely a non-starter and down the bench depth player.
4.1- 6.0 — A solid impact can be expected in the right scenario and has the potential to battle for a starting job.
6.1-9.0. — A high impact player who won't change a program but will certainly be a very good contributor and starter.
9.1- 9.9 — A very high impact player who should start the moment he steps on the field and will change the outlook of a program immediately.
10 — A franchise transfer who has a chance to be an All American and one of the elite players in college football.